PUPPETS OF THE PLUTOCRATS
Puppet Power | Corruption on Pakistan's "Sesame Street" | ColbertNation.com
Don't Make The Economic Mistake Of Voting Republican
How Money Corrupts Congress – and How to Stop It By Julian Brookes Rolling Stone October 5, 2011 "There is a feeling today among too many Americans that we might not make it," Lawrence Lessig writes in the introduction to his new book Republic, Lost. "Not that the end is near or that doom is around the corner, but that a distinctly American feeling of inevitability, of greatness – culturally, economically, politically — is gone." He goes on to note that Americans' trust in government is at an all-time low, related to the (largely accurate) belief that moneyed special interests wield outsize influence over our political system.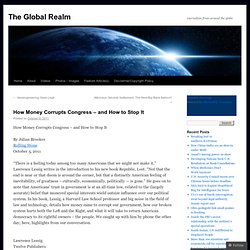 How Money Corrupts Congress – and How to Stop It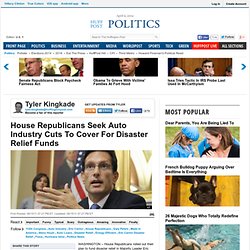 WASHINGTON -- House Republicans rolled out their plan to fund disaster relief in Majority Leader Eric Cantor's (R-Va.) district, but at the cost of almost half of remaining loans set aside to help the American auto industry. Included in their plan for a continuing resolution to fund the government past Sept. 30 is a provision to cut $1.5 billion of the $3.4 billion in remaining funds for low-cost loans -- sometimes referred to as "Section 136 loans." The money would be reused to pay for aid to states as they clean up after recent natural disasters like Hurricane Irene and the rare east coast earthquake -- both of which greatly affected Cantor's Virginia district.
House Republicans Seek Auto Industry Cuts To Cover For Disaster Relief Funds
Last week's Senate Banking Committee hearing on the nomination of Richard Cordray to lead the Consumer Financial Protection Bureau featured prepared speeches that were utterly without sound and fury but still managed to do a huge disservice to American consumers. It felt like a really bad Capitol Hill reality show, devoid of all emotion, featuring actors who made Snookie and the Situation seem like "clean" coal shills at a global warming conference. Confirmation hearings are generally only for the true political junkie, and this was no exception.
Will Richard Cordray Ever Lead The Consumer Financial Protection Bureau?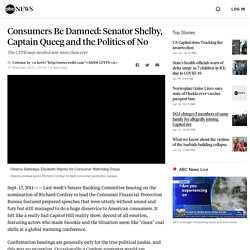 Republican Rep Accidentally Admits The GOP Has No Interest In Creating Jobs By: Rmuse Sep. 13th, 2011 more from Rmuse
Republican Rep Accidentally Admits The GOP Has No Interest In Creating Jobs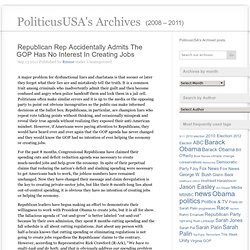 Republicans Call for Gutting Social Security, Adding Trillions to Debt
Over the past few weeks, the political chattering classes have been abuzz over 2012 GOP frontrunner Rick Perry's claim that Social Security is a "Ponzi scheme." ( It isn't .) But largely overlooked in the parsing and the polls is the ocean of red ink the various Republican Social Security privatization schemes would inevitably produce. More than a decade after George W. Bush first proposed them, there's no escaping the fact that private accounts would divert trillions of dollars from Social Security and thus build a new mountain of federal debt.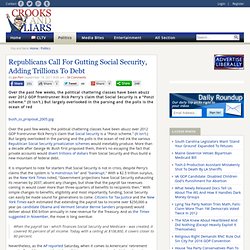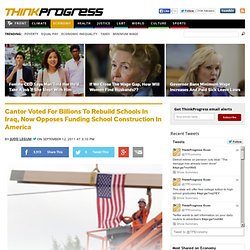 Majority Leader Eric Cantor (R-VA) voted for over $120 billion to rebuild Iraq and Afghanistan , funds that were used to construct and repair schools, roads, bridges, and other critical infrastructure. Now, Cantor is opposing President Obama's proposal to spend $30 billion to modernize 35,000 American schools. Reuters has the story : U.S.
Cantor Voted For Billions To Rebuild Schools In Iraq, Now Opposes Funding School Construction In America
The NRA is pushing a sweeping new bill to radically weaken the nation's gun control regime. Already co-sponsored by 243 members of the House, the legislation would force any state to recognize a concealed weapons permit issued by any other state: If Congress adopts a bill that the National Rifle Association is pushing, Florida's licenses would apply to 49 states in all — allowing their holders to carry hidden guns in places such as midtown Manhattan , where the New York Police Department rejects most such applications for "concealed- carry" permits. Only Illinois and Washington D.C., where residents aren't allowed to carry concealed handguns at all, would be exempt.
NRA Bill With 243 Sponsors Would Create Race To The Bottom On Concealed Handguns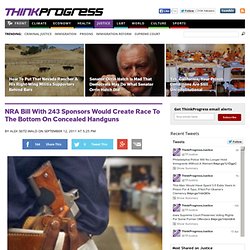 The FAA Is About To Run Out Of Money AGAIN Due To Senate Stalemate
$4 Mil To House 12 Homeless People
Obama's millionaire tax is class war, say Republicans | World news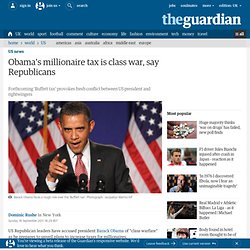 Barack Obama faces a rough ride over the 'Buffett tax'. Photograph: Jacquelyn Martin/AP US Republican leaders have accused president Barack Obama of "class warfare" as he prepares to unveil plans to increase taxes for millionaires. Obama is set to reveal details of the so-called "Buffett tax" – named after billionaire investor Warren Buffett, who has repeatedly called for the rich to pay higher taxes – on Monday. Obama looks set to propose a tax hike for those earning more than $1m a year as part of a wider plan to tackle the US's massive deficit.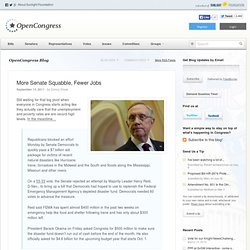 Still waiting for that big pivot when everyone in Congress starts acting like they actually care that the unemployment and poverty rates are are record high levels. In the meantime… Republicans blocked an effort Monday by Senate Democrats to quickly pass a $7 billion aid package for victims of recent natural disasters like Hurricane Irene, tornadoes in the Midwest and the South and floods along the Mississippi, Missouri and other rivers. On a 53-33 vote, the Senate rejected an attempt by Majority Leader Harry Reid, D-Nev., to bring up a bill that Democrats had hoped to use to replenish the Federal Emergency Management Agency's depleted disaster fund. Democrats needed 60 votes to advance the measure. Reid said FEMA has spent almost $400 million in the past two weeks on emergency help like food and shelter following Irene and has only about $300 million left.
More Senate Squabble, Fewer Jobs
Rep. John Fleming (R-LA) Rep.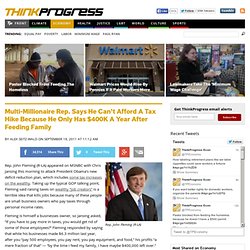 Multi-Millionaire Rep. Says He Can't Afford A Tax Hike Because He Only Has $400K A Year After Feeding Family
So Letting Businesses Pollute the Air and Water Is How the Administration Believes We'll Create Jobs?
This is kind of an insane conversation to have. Businesses are essentially arguing that it's okay to kill people if they can also hire people . That's really what this "job-killing regulation" debate is all about. Let's be clear: One side is arguing that job creation is such an absolute good, businesses should be allowed to kill people. The other side is saying, "Please don't let them kill us."
Ana Venegas/The Orange County Register Dr. Prem Reddy, Prime Healthcare Services' owner and board chairman In a widely watched decision, the state attorney general's office today denied the sale of Victor Valley Community Hospital to Prime Healthcare Services' nonprofit foundation, saying the sale would not be "in the public interest." Prime's nonprofit foundation blasted the decision as "unexpected" and "inexplicable." Prime accused the attorney general of siding with a labor union that "has been running a blatantly false smear campaign of vilification against hospitals operated by Prime Healthcare."
Attorney general denies sale to controversial hospital chain
Defending Decision Not To Investigate News Corp., Issa Contradicts Own Claim That He Knows Rupert Murdoch
House Oversight Committee Chairman Darrell Issa (R-CA) has refused repeated calls to investigate News Corporation over alleged violations of the Foreign Corrupt Practices Act tied to the British phone hacking scandal and allegations that the company hacked the phones of 9/11 victims' families immediately after the tragedy. The investigations, Issa complains, would amount to " picking on [the] media ." This morning, the host of C-SPAN's Washington Journal asked Issa about the investigations and if his refusal to probe the company had anything to do with his personal trust in News Corp.
AT&T Gave $963K to Lawmakers in T-Mobile Bid
Representative Pete Olson and 99 fellow House Republicans signed a letter yesterday urging the Obama administration to resolve a government lawsuit and let AT&T Inc. (T) buy T-Mobile USA Inc. All but one of the 100 lawmakers has received political donations from AT&T employees since 2009, according to a Bloomberg review of campaign finance records. The letter signers took in $963,275, Art Brodsky, a spokesman for Washington-based advocacy group Public Knowledge , said in an e-mail. Enlarge image AT&T Gave $963K to Lawmakers in T-Mobile Bid
Cornel West: Cold-hearted Republican Party tied to oligarchs | Raw Replay
Public intellectual and Princeton professor Cornel West said Tuesday on MSNBC that the Republican Party was "mean, coldhearted and tied to oligarchs," but Democrats were "spineless" and unwilling to fight them. "Looks like Barack Obama is going to have some spine, but it could be a two-step," he said. "It could be a speech for progressives, then move back to the center." "The top 10 percent got 100 percent of income growth," West later added. "That's pathological.
CREW's Most Corrupt Members of Congress
6 Dumb Arguments Against Taxing the Rich, Explained
VIDEO- Allison Kilkenny on Countdown with… Sam Seder talks "Postal Workers: The Last Union"
Consumer Groups Condemn GOP Bills To Eliminate Consumer Protections
Puppets Of The Rich: John Boehner
Jon Kyl Threatens To Quit Super Committee Over Defense Cuts
GOP Rep Introduces 'Jobs' Bill That Would Completely Eliminate Corporate Taxes
Grassley says IRS whistleblower program needs more resources
GOP class warfare: protect billionaires at all costs | Manhattan Diary
Republicans close ranks against Obama jobs plan
Incredible Keith Olbermann Special Comment On Taking Back Governance From Politicians
Republican Louie Gohmert Blasts American Jobs Act For Banning Unemployment Discrimination
House GOP widening scope of Solyndra probe, wants answers from White House - The Hill's E2-Wire
Herman Cain on Energy Policy
How 'Small Government' Conservatives Raise Your Taxes Through Stealthy Back-Door Fees | Tea Party and the Right
LIVE VIDEO NOW: North Carolina Senate Gay Marriage Debate
Coburn Yields to Pressure, Backs Off FAA Shutdown Threat
Bombshell: State Department Outsourced Tar Sands Pipeline Environmental Impact Study to 'Major' TransCanada Contractor
Exclusive: Republican Lobbyist Raided By FBI Last Week Shared Office With Top GOP State Senator, Bob Dutton
How Conservatives and Big Oil are Using a Phony Scandal to Undermine Obama, Clean Energy, and Government Itself | News & Politics
Centrist Dems Already Trying To Put The Brakes On Obama's Tax Increases
Do Regulations Really Kill Jobs Overall? Not So Much
Killing Clean Energy Laws
Bundlers on target in deficit committee - Anna Palmer and Manu Raju
Senator Menendez Responds to Republican Obstruction of Renewal of Critical Autism Legislation - Robert Menendez