2012 POLITICAL SCRAMBLE INSANITY!
Get flash to fully experience Pearltrees
The Republican presidential candidates released their fundraising totals this week--Rick Perry raised $17 million; Mitt Romney, $14 million--so one map-making journalist posed the question: where in the country is that money coming from? Matt Stiles, a data journalist at NPR, traces the geographic source of each campaign dollar contributed to the eight main players in the GOP field using public Federal Election Commission records and made a map of his results, posted on his personal blog, The Daily Viz (where you can also find a larger version of the map above, as well as maps for each individual candidate). The results are fascinating. For one thing, it mirrors the patterns in NASA's satellite images of the United States at night (places with a lot of lights also have a lot of money).
We face an historic opportunity today to unite the nation around the common vision of government of, for, and by the people. Please join us as we work to reclaim our democracy. To make sure you hear about the latest ways to make a difference, be sure to join our email list. Use the box in pink in the top right, above, or click here . Rest assured, we keep the volume low. Here are some ways you can help:
Earlier today, we told you about Democratic strategist James Carville 's CNN.com op-ed piece , which offered some characteristically blunt advice for the President: "Panic!" CNN's John King aptly described Carville's advice as "the political version of a family intervention." Carville explained that dire times call for more drastic measures, opining that it is high time the White House demonstrates to the American people that it "gets it" by supplying "something different" — like, for example, holding people accountable. Democratic pollster Cornell Belcher was also on hand, reacting to Carville's advice by bringing up the reality that many Americans right now are not only unhappy with the President's performance, but with the state of Washington DC in general, including Congress. Carville responded: Everything that Cornell says is true, but there's one problem: We keep losing elections.
But that was then. Today, "free to choose" has become "free to die." I'm referring, as you might guess, to what happened during Monday's G.O.P. presidential debate. CNN's Wolf Blitzer asked Representative Ron Paul what we should do if a 30-year-old man who chose not to purchase health insurance suddenly found himself in need of six months of intensive care. Mr. Paul replied, "That's what freedom is all about — taking your own risks."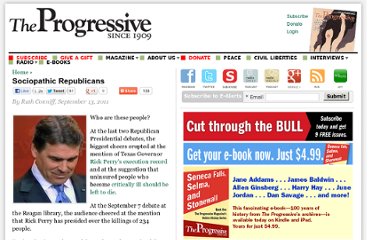 By Ruth Conniff, September 13, 2011 Who are these people? At the last two Republican Presidential debates, the biggest cheers erupted at the mention of Texas Governor Rick Perry's execution record and at the suggestion that uninsured people who become critically ill should be left to die. At the September 7 debate at the Reagan library, the audience cheered at the mention that Rick Perry has presided over the killings of 234 people. During the September 12 debate, the applause rained down again when a Tea Party audience member shouted out "let him die!"
We're on the cusp of the 2012 election. What will it be about? It seems reasonably certain President Obama will be confronted by a putative Republican candidate who:
Updated 2011-09-19 1:49 PM President Obama quoted Psalm 30 at the Concert for Hope on Sept. 11 at the Kennedy Center.
I asked an investor in the health-care sector last night about the impact of Obamacare. He pointed out to me that it hasn't really been implemented yet and won't be until after the next election. He predicted that, with Republicans likely to take control of the Senate, it will never be implemented in its original form. But of course much will depend on the outcome of the next election—not only for Congress but for president. The same is true when it comes to the defense budget. Yesterday, I testified before the House Armed Services Committee about the catastrophic consequences of "sequestration"—the process whereby Congress may whack up to $600 billion from the defense budget later this year unless an alternative can be found.
Kinde Durkee, a veteran campaign treasurer working for the Democratic Party in California, was arrested on Sept. 2, suspected by federal authorities of having embezzled $1 million. She allegedly ran a kind of campaign-fund Ponzi scheme — funneling money between accounts like a shell game — leading some to call her the "Bernie Madoff of campaign treasurers." (Madoff, who would never be caught dead in a chartreuse smock, would probably bristle at the comparison.) Now several candidates' campaign funds have been completely wiped out, including Sen.