GRAB THE POPCORN!
Client 9: The Rise and Fall of Eliot Spitzer. All Critics (68) | Top Critics (22) | Fresh (61) | Rotten (6) | DVD (2) Gibney doesn't have anything more than tantalizing clues and a huge amount of circumstantial evidence, but he doesn't need much more than that to indict Wall Street itself.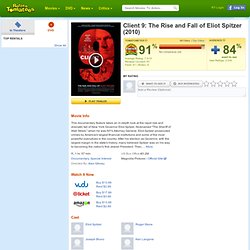 As Gibney demonstrates in Client 9: The Rise and Fall of Eliot Spitzer, plenty of politicians remained in office amid similar revelations. It's the coolness of Gibney's account of the possibly systematic sabotaging of Spitzer's career, perpetrated by a strangely camera-friendly cast of enemies-cum-conspirators, that makes it such transfixing viewing. "Client 9" is made with skill and intelligence, but I kept wanting to hear another story; one that I hadn't heard before. You want tears? When you talk too much for Twitter. The U.S. vs. John Lennon. In retrospect, it seems absurd that the United States government felt so threatened by the presence of John Lennon that they tried to have him deported.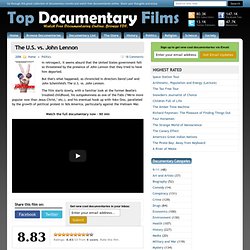 But that's what happened, as chronicled in directors David Leaf and John Scheinfeld's The U.S. vs. John Lennon. The film starts slowly, with a familiar look at the former Beatle's troubled childhood, his outspokenness as one of the Fabs ("We're more popular now than Jesus Christ," etc.), and his eventual hook up with Yoko Ono, paralleled by the growth of political protest in '60s America, particularly against the Vietnam War.
Watch the full documentary now - Casino Jack And The United States Of Money. All Critics (71) | Top Critics (29) | Fresh (53) | Rotten (11) | DVD (5) Auds will feel info-glut over the course of the two-hour-plus film, which is hardly the desirable response for a piece of reporting on the vital issue of the corrupting effect of money in American politics.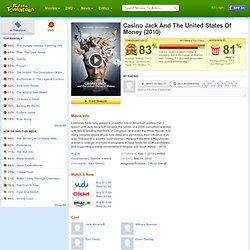 The narrative trots all over the globe, including stops for labor exploitation in the Marianas Islands, dealings with Russian mobsters,ripping off Indian tribes in the desert southwest, and jetting to Scotland to golf with impressionable politicians. Buying votes in Congress, illegal then, legal now. Michael Moore Pictures. Naomi Klein - The Shock Doctrine - Part 1 of 6. The American Form of Government. Food, Inc. All Critics (107) | Top Critics (33) | Fresh (102) | Rotten (4) | DVD (5) This is the kind of muckraking we should see more often.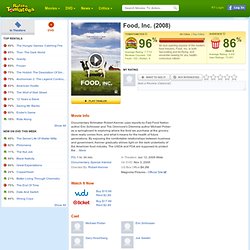 This solidly constructed documentary aims to do for food production what An Inconvenient Truth did for global warming. Smart, gripping, and untainted by the influence of Michael Moore. After you see what IBP is doing to cattle, what Tyson is doing to chickens, what farmers are doing to us and what Monsanto is doing to farmers in the new documentary Food, Inc., you may never eat again. A mind-boggling, heart-rending, stomach-churning expose on the food industry. American Fascists, Chris Hedges on The Hour (CBC) Chris Hedges: "AMERICAN FASCISTS" The Christian Right vs USA. Michael Moore. Boogie Man: The Lee Atwater Story. All Critics (31) | Top Critics (16) | Fresh (27) | Rotten (2) Fascinating to a political junkie like me who wasn't aware of the game back then.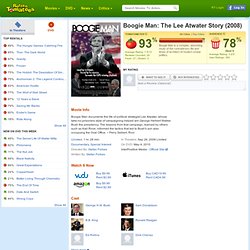 Director Stefan Forbes has assembled a brilliantly complex portrait that shines an unnerving light on the man who painted the landscape of contemporary American politics. Yoono. 1812 Overture - V For Vendetta. V for Vendetta Speech. Just…just…wow. « Toward a Moral Life. Occasionally, you run across morality preserved in a piece of art that makes you just say, "….wow."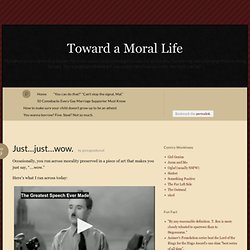 Here's what I ran across today: The Greatest Speech Ever Made <p>JavaScript required to play <a hreflang="en" type="video/mp4" href=" Greatest Speech Ever Made</a>. </p> Yeah, it has some religious references in it, but Chaplin's speech (from The Great Dictator) is still one of the great humanist soliloquies. Capitalism: A Love Story. All Critics (180) | Top Critics (41) | Fresh (133) | Rotten (44) | DVD (2) The thesis that rapacious capitalism has horrific social consequences is credible and well illustrated, if hardly eye-opening to European viewers.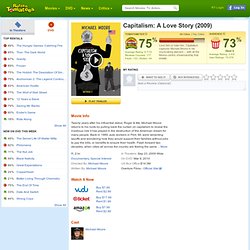 Moore is always visually playful and subversive, and even when dealing with such serious and depressing topics entertaining; but he's also game enough to examine America's mythology of prosperity. Capitalism: A Love Story Trailer. Sicko Trailer. Client 9: The Rise and Fall of Eliot Spitzer. Capitalism: A Love Story Trailer. Boogie Man: The Lee Atwater Story. *THIS COUNTRY IS FINISHED* GEORGE CARLIN ON COUNTDOWN. Naomi Klein: Disaster Capitalism.
Inside Job. All Critics (143) | Top Critics (31) | Fresh (139) | Rotten (3) | DVD (4) You'll need a clear head to follow this impressive and angry American doc about the financial meltdown...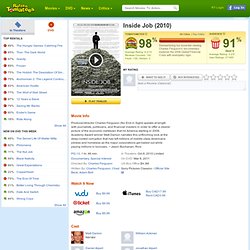 This scathing expose should be enough to alarm people all over the political spectrum. Wall Street owns Washington. Fair Game. All Critics (169) | Top Critics (37) | Fresh (134) | Rotten (35) | DVD (4) This isn't a message movie, per se, but a strong point of view comes through regardless: In the battle of principles vs. politics, politics always win.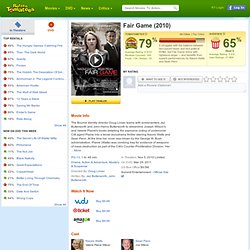 An absorbing, unhysterical thriller that largely rejects the clichés of the genre. V for vendetta trailer. The American Form of Government. The Corporation. All Critics (117) | Top Critics (35) | Fresh (98) | Rotten (11) | DVD (20) A history lesson, a warning shot and damning personality profile, all backed up with expert interviews.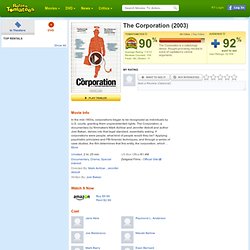 Carries a powerful, albeit not new, message. It is frightening. The rare movie that sets out to alter the audience's consciousness -- and succeeds. American: The Bill Hicks Story. All Critics (57) | Top Critics (10) | Fresh (47) | Rotten (10) | DVD (5) Directors Matt Harlock and Paul Thomas work wonders with the old photos, animating and enhancing them to simulate Hicks' excellent adventure. Ultimately, the doc comes off as yet another reminder that, in showbiz and elsewhere, one of the greatest tragedies in life is unfulfilled promise. A portrait of the short-lived artist that will move fans while letting the uninitiated witness enough onstage highlights to leave them wanting more.
---