GOP
POLL: Plurality Believes That Republicans Are Sabotaging Economy. According to a new Daily Kos/SEIU poll, nearly half of voters believe that Republicans are intentionally stalling efforts to jump start the economy to ensure that President Barack Obama is not re-elected. 49 percent of respondents to the poll say that Republicans are intentionally stalling the economy, compared to 40 percent who say they are not. 11 percent replied "not sure."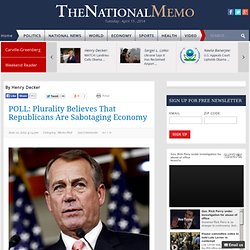 Among independents, 50 percent said that Republicans are stalling the recovery compared to 40 percent who said they are not, and 61 percent of self-described moderates said they are compared to just 40 percent who said they are not. Although 41 percent of voters believe that last week's jobs report was bad news for the president (compared to 40 percent who said that it will have no effect on him, and 14 percent who said it was good news,) they seem to be primarily blaming the Republican party for the mess.
The Private Sector And The Public Sector Under Obama. Mitt Romney Wants To Repeal The Rule That Would've Stopped The Latest Financial Scandal. A surprising development on Wall Street Thursday could magnify a little-discussed but key difference between President Obama and Mitt Romney -- one with enormous consequences for public policy.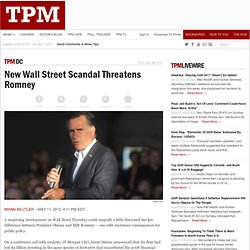 On a conference call with analysts, JP Morgan CEO Jamie Dimon announced that his firm had lost $2 billion investing in the same species of derivative that exacerbated the 2008 financial crisis. Dimon claims the company is prepared to absorb the loss, but it puts the reputation of one of the only big firms to weather the 2008 financial crisis directly on the line. This is exactly the type of major loss of depositor money that the Obama administration sought to ban with one of the major planks of its 2010 Dodd-Frank Wall Street reform law -- the Volcker Rule, named after former Fed chairman Paul Volcker. And that's bad news for Romney, who wants to repeal the whole law, Volcker Rule and all.
Scott Brown votes against Paycheck Fairness Act. Tweets WBUR's Fred Thys.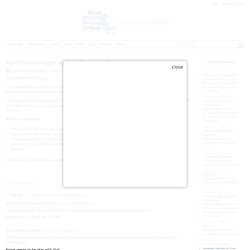 I'm guessing Brown will say it wasn't "bipartisan enough". Which it could have been, of course, if he'd voted for it. He's not working hard enough at this bipartisan thing, huh? I'm having trouble imagining how it's not a bipartisan priority to make sure women get paid the same as men for the same work. Unless, of course, one party doesn't care much about women who vote. Lizfarrington : My mom's neighbor's handma... Quayle Accuses Schweikert of Misbehavior in Arizona Race. The Republican primary race for Arizona's 6th Congressional District is heating up, with the campaign of Rep.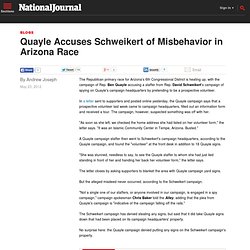 Ben Quayle accusing a staffer from Rep. David Schweikert's campaign of spying on Quayle's campaign headquarters by pretending to be a prospective volunteer. In a letter sent to supporters and posted online yesterday, the Quayle campaign says that a prospective volunteer last week came to campaign headquarters, filled out an information form and received a tour. The campaign, however, suspected something was off with her. "As soon as she left, we checked the home address she had listed on her volunteer form," the letter says.
Obama spending binge never happened - Rex Nutting. By Rex Nutting, MarketWatch WASHINGTON (MarketWatch) — Of all the falsehoods told about President Barack Obama, the biggest whopper is the one about his reckless spending spree.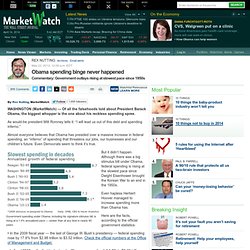 As would-be president Mitt Romney tells it: "I will lead us out of this debt and spending inferno." Almost everyone believes that Obama has presided over a massive increase in federal spending, an "inferno" of spending that threatens our jobs, our businesses and our children's future. GOP to renew healthcare law repeal efforts. WASHINGTON, Dec. 2 (UPI) -- U.S. congressional Republicans will renew their call to repeal healthcare reform laws in bits and pieces, not all at once, members of both parties say.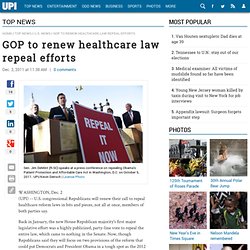 Back in January, the new House Republican majority's first major legislative effort was a highly publicized, party-line vote to repeal the entire law, which came to nothing in the Senate. Now, though Republicans said they will focus on two provisions of the reform that could put Democrats and President Obama in a tough spot as the 2012 election nears -- the Independent Payment Advisory Board, which Republicans have characterized as a Medicare rationing board, and the CLASS Act, a program the Obama administration put on hold that would have provided daily benefits for people with disabilities if they've paid monthly premiums for at least five years, The Hill reported Friday.
GOP hopeful Rick Santorum campaigns with a seriously ill daughter at home. His is easily the most searing personal narrative offered by any candidate this season.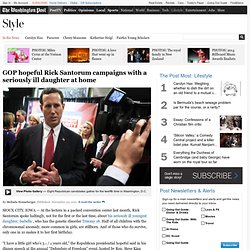 And when he speaks of Bella publicly, it is almost always in conjunction with his top policy goal of dismantling the health-care reform legislation, which he sees as a threat to those like her, "on the margins of life." Yet after he shared the story of her struggle and his decision to run anyway — not so much in spite of her fragile condition as because of it — people at King's event didn't seem to know how to respond; as the former Pennsylvania senator slowly worked his way through the emptying ballroom after the dinner, nobody mentioned his daughter, though one woman asked if his children ever got to travel with him.
In a heartbreaking situation, and running near the back of the pack in the polls, Santorum said the campaign has been "incredibly hard" on his family — emotionally and financially. He's given up all paid employment, including his work for Fox News, to make the run. Fewer Voters Identify as Republicans. The balance of party identification in the American electorate now favors the Democratic Party by a decidedly larger margin than in either of the two previous presidential election cycles.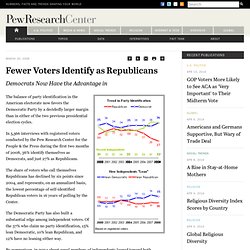 In 5,566 interviews with registered voters conducted by the Pew Research Center for the People & the Press during the first two months of 2008, 36% identify themselves as Democrats, and just 27% as Republicans. The share of voters who call themselves Republicans has declined by six points since 2004, and represents, on an annualized basis, the lowest percentage of self-identified Republican voters in 16 years of polling by the Center. The Democratic Party has also built a substantial edge among independent voters. Of the 37% who claim no party identification, 15% lean Democratic, 10% lean Republican, and 12% have no leaning either way. Switcheroo: Democrats And Republicans To Trade Places On Taxes, Spending. For at least the next several weeks, politics will undergo a strange transposition, during which Republicans will warn of the economic dangers of cutting government spending, and President Obama will barnstorm the country warning voters that Republicans are inviting a tax increase on the majority of Americans.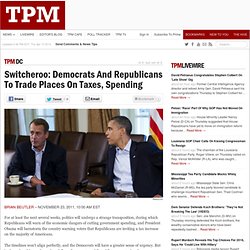 The timelines won't align perfectly, and the Democrats will have a greater sense of urgency. But in the wake of Super Committee failure, Democrats and Republicans are staring down uncomfortable deadlines, and each party's best bet for avoiding outcomes that harm their interests is to adopt the other's rhetoric. At the end of the year, a payroll tax holiday that many economists credit with buoying the U.S. economy in 2011 is scheduled to expire. The effect will be a noticeable tax increase with low and middle class workers -- the very demographic that needs to be spending more, not less, if the economy is going to recover. Democratic Congresswoman says GOP colleagues admit to tanking the economy to hurt Obama. See?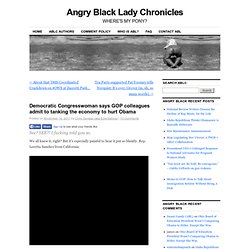 SEE?! I fucking told you so. We all knew it, right? But it's especially painful to hear it put so bluntly. Rep. Republicans Object To Bill For Homeless Veterans. Having had no luck in a political battle pitting deficit reduction against the unemployed, Democrats on Tuesday tried deficit reduction against veterans.
It didn't work. Sen. Mitt Romney: Maybe Veterans' Health Care Should Be Privatized. WASHINGTON -- Mitt Romney floated an eyebrow-raising suggestion on Veterans Day: privatize veterans' health care. Speaking with a dozen vets in an occasionally emotional roundtable discussion in South Carolina Friday, the GOP presidential contender sympathized with the service members' difficulties obtaining treatment from the Department of Veterans Affairs, which one vet described as "adversarial.
" Romney, who has already proposed privatizing Medicare, suggested that maybe giving wounded warriors an outside option would force VA health bureaucrats to be a little more responsive. Florida Teacher Faces Thousands In Fines For Registering Students To Vote. Florida's new voter-suppression law is so draconian that a high school civics teacher faces thousands of dollars in fines just for helping students register to vote. Apparently Jill Cicciarelli, a teacher in New Smyrna Beach may have violated the portion of the bill that requires third parties who sign up new voters to register with the state and submit new voter applications within 48 hours.
Cicciarelli organized a drive at the stat of the school year to get students pre-registered, all in part of doing her part to prep the soon-to-be voters for the privileges and responsibilities of voting in a democracy. 12 Year Old Threatened with Arrest in WI Assembly For Studying the US Constitution. Mitt Romney Has Announced That He Will Privatize Medicare. The Republican Party has created a crisis to eliminate the New Deal and the Great Society our past generations built and enjoyed. They created this crisis intentionally by increasing spending, through the military and cutting taxes for the wealthiest Americans and corporations. By increasing spending and cutting taxes they created the debt we have today, a financial, budgetary crisis, that gives them the excuse to reduce spending, demand privatizing or eliminating every aspect of our social safety net. President Bill Clinton was about to throw a big wrench into that plan with his surplus, which would have stalled the Republican's mission of a fiscal debt crisis.
Then came along, George W. Bush and the Republicans in the House and Senate, who took the surplus away from the people and gave huge tax breaks to the wealthy and multinational corporations. Koch/ALEC Cabal - a Smoking Gun for financial connections and control... Many wonder how Davy Boy and Ol' Chucky ensure that they get their money's worth out of the organizations they fund and support. How do they control the work or dissemination of Conservative "messages"? I found their operation is much simpler and more effective than many would believe and done through a system that has virtually been ignored by media and most researchers.
Going at it the way I did I also uncovered how they are able to have additional control over what is printed about them in corporate controlled media outlets - print, TV and other formats. A Republican War on the Environment. Gov. Christie's plan to privatize parks breaks the public's trust | Commentary. House Dems call for voter suppression hearings. Stand Up for Patients' Rights: Tell Your Representative to Oppose H.R. 5. EPA Rules Don't Kill Jobs, They Save Lives. Execution of Mussolini. NYPD Officer Arrested On Civil Rights Charges: "I Fried Another N*gger" Cain: I'll challenge Perry for evangelical votes. Test Of Wisconsin Voter ID Law Led To Lines So Long People Left Instead Of Voting. Over GOP Objections, Budget Hawks Say Super Committee Should 'Go Big' Sorry, But The Republican Arguments Against A "Millionaire's Tax" Are Just Preposterous. More Details Emerge in Republican Assault on Post Office and Postal Unions. GOP wants CLASS Act hearing.
Senate GOP blocks 9/11 first responders health plan bill. Behind Boehner's Lies. GOP candidates show more loyalty to a foreign country (Israel) than their own. Issa: We Won't Investigate News Corp's Alleged Hacking Of 9/11 Victims Because We Don't Want To Pick On The Media. GOP smirks at millionaire tax. Boehner Rebuffs Obama Request for Speech on Wednesday - GOP freshmen return, resume effort to roll back regulations. How the Right Wing Destroyed the U.S. Postal Service. Boehner Rejects Jobs Bill, Advances Deregulatory, Anti-Tax Agenda. GOP senators fear FAA shutdown - Scott Wong and Manu Raju.
Republican Study Committee
---