Free Trade Agreements
IndoFoWL : Thinking of Pfc. Bradley M
IndoFoWL : Thinking of Pfc. Bradley M
Saturday, 5 May 2012
#Extradition The Fight of Our Lives: WANT TO KNOW THE FACTS ON EXTRADITION?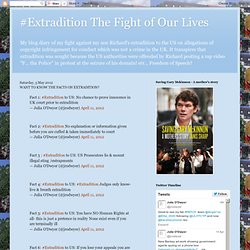 Free eBooks
M. K. Theodoratus
Pentagon Papers whistle-blower Dan Ellsberg accepts Bradley Manning's Peoples Choice Human Rights Award
Tell the Obama campaign it's time to free Bradley Manning
November 7, 2011. Bradley Manning Support Network. Four supporters of accused WikiLeaks whistle-blower PFC Bradley Manning appeared today before a judge in Manassas, Virginia, to face charges stemming from their arrests in March outside of a Marine military brig in Quantico, Virginia. These supporters were arrested along with many others who are outraged at the abusive confinement conditions to which PFC Manning was subjected during the eight months he was held at the Quantico Pre-Trial Confinement Facility.
Bradley Manning supporters face judge for attempting to lay flowers outside Quantico marine base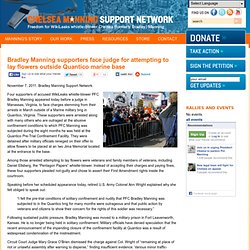 Live Chats - Ask questions to our contributing lawyers - on Lawyers.com
Date: November 7, 2011 Host: Roger T. Dunaway View Transcript | Archive Index For All Legal Chats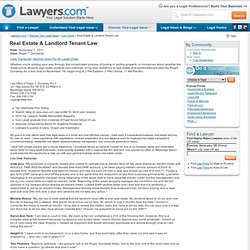 Assassins