Free Trade Agreements
IndoFoWL : Thinking of Pfc. Bradley M
IndoFoWL : Thinking of Pfc. Bradley M
Saturday, 5 May 2012
#Extradition The Fight of Our Lives: WANT TO KNOW THE FACTS ON EXTRADITION?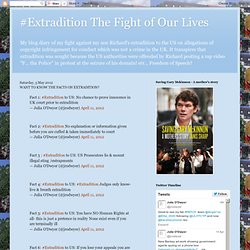 Free eBooks
M. K. Theodoratus
There's a War on Truth, and Bradley Manning needs YOU to share the facts at an Obama campaign office during Brad's next hearing, June 6-8th.
Tell the Obama campaign it's time to free Bradley Manning
November 7, 2011. Bradley Manning Support Network. Four supporters of accused WikiLeaks whistle-blower PFC Bradley Manning appeared today before a judge in Manassas, Virginia, to face charges stemming from their arrests in March outside of a Marine military brig in Quantico, Virginia.
Bradley Manning supporters face judge for attempting to lay flowers outside Quantico marine base
Live Chats - Ask questions to our contributing lawyers - on Lawyers.com
Assassins