Vegan
12 Top Vegan Iron Sources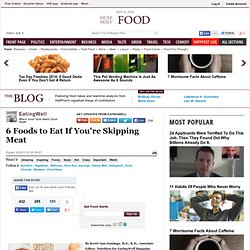 By Kerri-Ann Jennings, M.S., R.D., Associate Editor, Nutrition for EatingWell Magazine I was a vegetarian for most of my college years, but I was not yet a nutrition major (that came in grad school). My diet in those days consisted of lots of bread, cheese, yogurt and fruit. Not surprisingly, I gained weight and became iron-deficient. Now years later and pounds lighter, I still favor a meatless diet (although not exclusively). However, as a registered dietitian and associate nutrition editor at EatingWell Magazine, I now know how to go meatless without missing out on the nutrients my body needs (nutrients in meat and fish that I can also get through certain "must-have" plant foods).
EatingWell: 6 Foods to Eat If You're Skipping Meat
vegan-pyramid-1024x768.jpg (JPEG Image, 1024×768 pixels) - Scaled (96%)
7 Easy Vegan Recipes to Get You Through Your First Week of Veganism"
It can be a bit intimidating to go vegan all at once. What do I eat? I mean I know what I can't eat, but how do I put it all into a recipe? How can I make sure that my vegan meals are balanced and that my family will eat them as well? More and more people are at least cutting back on their meat consumption because it vastly reduces your eco-impact. It's best to hit the farmers' market and indulge in the healthiest, freshest produce available, especially because a vegan diet is almost completely produce driven.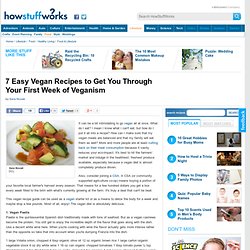 Vegan Recipes by Category
Simple Vegan Recipes - Easy Vegan Meals
Creating a Vegan Pantry
By Nava · On Feb 09, 2008 Rating: 3.4/ 5 (7 votes cast) So many people have asked me how to set up a plant-based (vegan) pantry that I decided this subject merits a permanent place on VegKitchen. Whether you are a newcomer to a vegan/vegetarian diet, or someone who wants to have a greater variety of healthy ingredients at hand, this list can serve as your handy guideline. Now, no matter how time-crunched life gets, you can be sure that a healthy, nearly effortless meal awaits at the end of the day!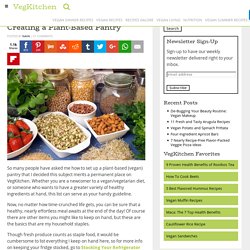 Protein in the Vegan Diet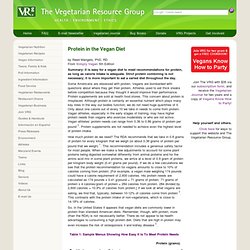 by Reed Mangels, Ph.D., R.D. Help yourself and others. Click here for ways to support this website and The Vegetarian Resource Group. Topics in this article: Summary Table 1 : Sample Menus Showing How Easy It Is To Meet Protein Needs Table 2 : Protein Content of Selected Vegan Foods Table 3 : Amounts of Foods Providing Recommended Amounts of Essential Amino Acids References Summary
karmavore [ Vegan Specialty Shop ] @ Karmavore Vegan Shop | Vancouver BC Canada