Medias
Global Voices. This page is part of our special coverage Europe in Crisis.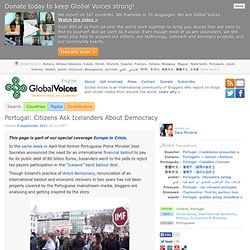 In the same week in April that former Portuguese Prime Minister Jose Socrates announced the need for an international financial bailout to pay for its public debt of 80 billion Euros, Icelanders went to the polls to reject tax payers participation in the "Icesave" bank bailout deal. Though Iceland's practice of direct democracy, renunciation of an international bailout and economic recovery in two years has not been properly covered by the Portuguese mainstream media, bloggers are analysing and getting inspired by the story. Reykjavik Protest, 2008. Photo by Kristine Lowe on Flickr (CC BY-NC-SA 2.0) Clavis Prophetarum [pseudonymn], from the blog Quintus, tells why he thinks Iceland's "brave resistance to the political-financial complex that ademocratically rules the European Union nowadays" is being ignored [pt]: Enigmail: A simple interface for OpenPGP email security. The GNU Privacy Guard - GnuPG.org.
Concours médias
Webdocumentaire. Mouvements. Entretien avec Simon Rogers, le data-blogueur. Écoutez l'entretien en VF (10min. et 28 sec.)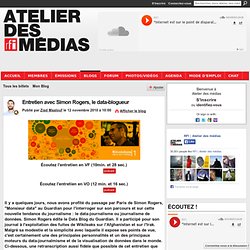 Écoutez l'entretien en VO (12 min. et 16 sec.) Il y a quelques jours, nous avons profité du passage par Paris de Simon Rogers, "Monsieur data" au Guardian pour l'interroger sur son parcours et sur cette nouvelle tendance du journalisme : le data-journalisme ou journalisme de données. Simon Rogers édite le Data Blog du Guardian. L'Observatoire des médias. 8 trucs pour bien conduire une interview. J'aime bien quand nous accueillons des nouveaux stagiaires, surtout lorsqu'ils sont curieux.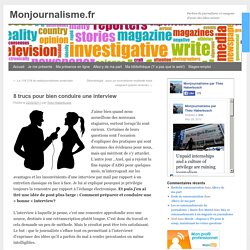 Certaines de leurs questions sont l'occasion d'expliquer des pratiques qui sont devenues des évidences pour nous, mais qui méritent de s'y attarder. L'autre jour , Axel, qui a rejoint la fine équipe d'AISG pour quelques mois, m'interrogeait sur les avantages et les inconvénients d'une interview par mail par rapport à un entretien classique en face à face.
Radio / docu
Boulot. Concours de journalisme multimédia World Press Photo. Mardi 18 Janvier 2011 15:51 World Press Photo annonce par voie de communiqué son concours de production multimédia en journalisme visuel.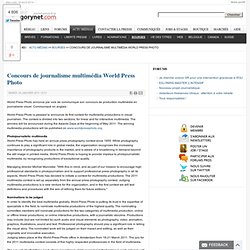 Communiqué en anglais : World Press Photo is pleased to announce its first contest for multimedia productions in visual journalism. The contest is divided into two sections, for linear and for interactive multimedia. The winners will be announced during the Awards Days at the beginning of May 2011.
---