Tutorial
by Elisabeth Parker For most of my life, my standard over-layer has been the classic, grungy, waffle-knit long-sleeve t-shirt. In my attempts to recreate this garment in a handknit, I've met, tried and rejected a veritable ton of "waffle" stitch patterns, usually created using triangles of knit and purl stitches arranged artfully, or some combination of ribbing and garter stitch. Generally, these stitches look great and waffle-y, especially on small needles, but I was unable to find the hand-knitting equivalent to my favorite mass-produced stitch pattern on a larger scale!
Mortar Cowl: Knitty Deep Fall 2011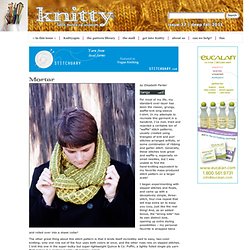 Note: To make this pattern easier to understand, the predominantly yellow (MC) side will be called the RS, and the predominantly black (CC) side will be called the WS. CO 48 stitches using CC. I recommend using a cable cast on, but a tubular cast on is also nice for double knitting. Now it's time to add the second color, and work the first row. You will have to get used to holding both yarns at once. Throughout, you carry both colors forward or back between the needles before each stitch, though you are only knitting or purling with one color at a time.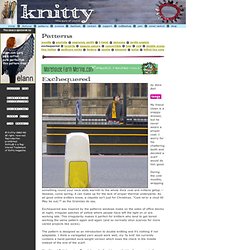 editorial spring 06
Border-less artwork framing with clear acrylic, by Architect Rudy H.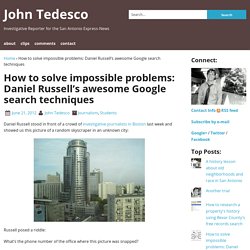 Daniel Russell stood in front of a crowd of investigative journalists in Boston last week and showed us this picture of a random skyscraper in an unknown city: Russell posed a riddle: What's the phone number of the office where this picture was snapped?
Photography Kick-Start Guide: Adjusting Your Camera's Settings for the Photo You Want
This entry is part 4 of 10 in the Exposure Session - Show All « Previous Next » Every two weeks, we revisit some of our reader favorite posts from throughout the history of Phototuts+. This tutorial was first published in September of 2009. Cameras vary in terms of functions offered.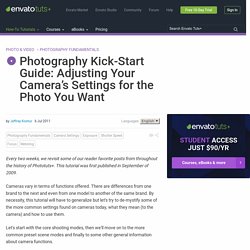 How To Color Correct a Photo Super Photo Magic School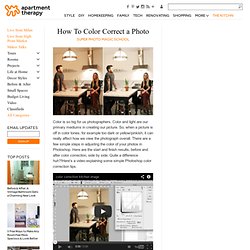 Color is so big for us photographers. Color and light are our primary mediums in creating our picture. So, when a picture is off in color tones, for example too dark or yellow/pinkish, it can really affect how we view the photograph overall. There are a few simple steps in adjusting the color of your photos in Photoshop. Here are the start and finish results, before and after color correction, side by side.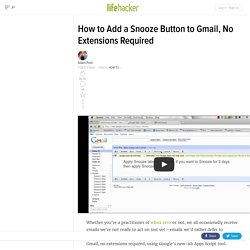 How to Add a Snooze Button to Gmail, No Extensions Required
Whether you're a practitioner of inbox zero or not, we all occasionally receive emails we're not ready to act on just yet—emails we'd rather defer to tomorrow, or even next week. Here's how to create a smart snooze button in Gmail, no extensions required, using Google's new-ish Apps Script tool. Note: Google's Corey Goldfeder posted this method on the Google Apps Developer blog and in the video above. This post is simply a more basic version of his guide for people (like me) who previously have no experience with Google Apps Script.
Just because you can usually get a similar effect in Photoshop doesn't mean the end result will be as good as using Illustrator (depending on the project). If you are like me (and I will bet most of you are) you will go ahead and use PS because you know it much better even though the final project will not be as good or functional as it could be. Well it's time to buck up and get this learning curve completely out of the way so you make the right choice next time. Below are some sweet Illustrator tuts that will leave you in vector heaven once your done.