Mobile App Development
Windows Phone 7 Resources
Dan4, Inc. | User Experience Design
Learn to develop for iPhone, iPad and Mac OS X: Master resource list - TUAW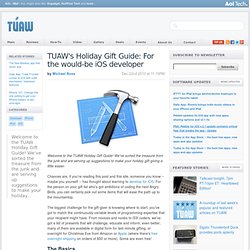 Welcome to the TUAW Holiday Gift Guide! We've sorted the treasure from the junk and are serving up suggestions to make your holiday gift-giving a little easier. Chances are, if you're reading this post and this site, someone you know -- maybe you yourself -- has thought about learning to develop for iOS . For the person on your gift list who's got ambitions of coding the next Angry Birds, you can certainly pick out some items that will ease the path up to the mountaintop. The biggest challenge for the gift-giver is knowing where to start; you've got to match the continuously variable levels of programming expertise that your recipient might have. From novices and noobs to l33t coders, we've got a list of presents that will challenge, educate and inform; even better, many of them are available in digital form for last-minute gifting, or overnight for Christmas Eve from Amazon or Apple (where there's free overnight shipping on orders of $50 or more).
s Holiday Gift Guide: For the would-be iOS developer
Blog
We've just hit a pretty big Camera+ sales milestone… 10 million paid copies of the app sold! It's pretty hard to believe that there are that many copies out there being used by all of you. Thanks very much for your support!