LaTeX
LaTeX Symbols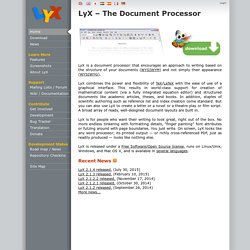 LyX is a document processor that encourages an approach to writing based on the structure of your documents (WYSIWYM) and not simply their appearance (WYSIWYG). LyX combines the power and flexibility of TeX/LaTeX with the ease of use of a graphical interface. This results in world-class support for creation of mathematical content (via a fully integrated equation editor) and structured documents like academic articles, theses, and books.
rivanvx / beamer / wiki / Home – Bitbucket
[If you plan to use the development code, please read the entire text below carefully.] Official mailing list (Google Groups): beamer-class@googlegroups.com / http://groups.google.com/group/beamer-class News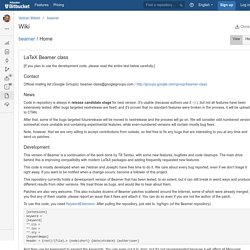 LaTeX Editor—Home
LaTeX Editor, called later LEd, is an environment for rapid TeX and LaTeX document development. It is free to use, however, donations act as a catalyst for its develompent. LaTeX Editor is designed to work on Windows® 95/98/Me/NT4/2000/XP/2003/Vista operating systems. LEd's capabilities vary according to the operating system used, e.g., Visual Styles from Windows® XP.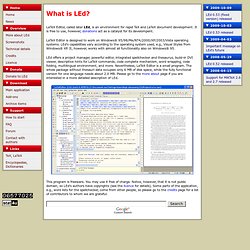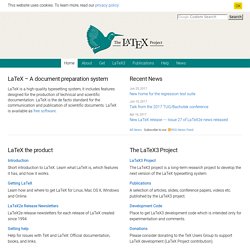 LaTeX is a high-quality typesetting system; it includes features designed for the production of technical and scientific documentation. LaTeX is the de facto standard for the communication and publication of scientific documents. LaTeX is available as free software.