Blogs
Don kenn gallery. V and Co how to: jersey knit bracelet. I don't know what it is about this time of year that makes me just want to have my bare feet in the sand, be watching the sun setting into the ocean, and breathing in the warm salty air of the beach...as i get older, more and more i find myself missing that place i used to go to almost every.single.day. as a teen.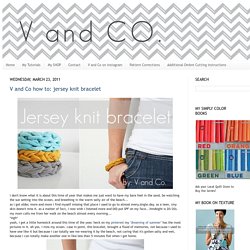 (my skin doesn't miss it. as a matter of fact, i now wish i listened more and DID put SPF on my face...hindsight is 20/20). my mom calls me from her walk on the beach almost every morning... *sigh*yeah, i get a little homesick around this time of the year. heck on my pinterest my "dreaming of summer" has the most pictures in it. ah yes. i miss my ocean. case in point. this bracelet, brought a flood of memories, not because i used to have one like it but because i can totally see me wearing it by the beach, not caring that it's gotten salty and wet, because i can totally make another one in like less than 5 minutes flat when i get home.
Hair Romance. Hair Romance is a wonderful blog dedicated to all things hair related, where Christina, a super lovely australian blogger, offers a lot of valuable hair advice.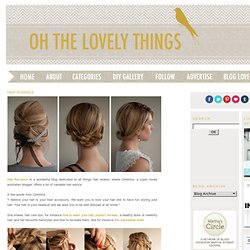 A few words from Christina : "I believe your hair is your best accessory. We want you to love your hair and to have fun styling your hair. Hairdresser on Fire | A blog about styling hair, and hair generally. | A Midwestern-DIY-CatLady-Nerd's Adventures. Summer Hair DIY. Sometimes I feel like I spend Summer trying to figure how out to save my hair from the humidity.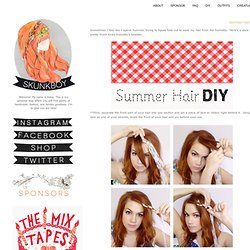 Here's a style that pretty much kicks humidity's keester. **First, separate the front part of your hair into one section and pin a piece of lace or ribbon right behind it. Using the lace as one of your strands, braid the front of your hair and pin behind your ear. **Take the remaining ribbon and wrap it around your head, and then again half-way. Stop at the back and tie it up. Brighter Sides: What's On My Mind, What's On My Feet And Everything In Between. I haven't written since December, and I guess that's because January was a silly month.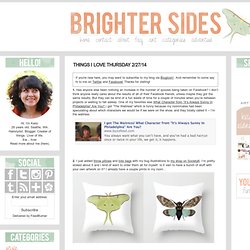 I say "silly" because I don't want to say it was a "bad" month… even though a few less-than-desirable things happened (which I tend to focus on) there were some brighter sides to it too (see.. you see what I did there…?) Here are a few standout things that happened. I moved into a new house on January 1st with four friends – reality TV has nothing on us. I got my wisdom teeth removed, which I was absolutely terrified about. How to keep track of blogs i like.
---