Tutoriels
Community • View topic - How to use distinct with multiple columns in Criteria API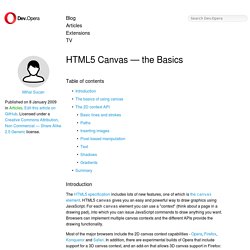 By Mihai Sucan Table of contents Introduction
HTML 5 canvas - the basics - Opera Developer Community
Let's Call It a Draw(ing Surface) - Dive Into HTML5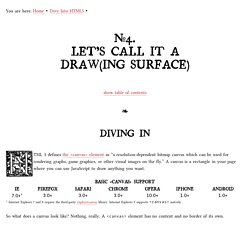 You are here: Home Dive Into HTML5 Diving In HTML 5 defines the <canvas> element as "a resolution-dependent bitmap canvas which can be used for rendering graphs, game graphics, or other visual images on the fly." A canvas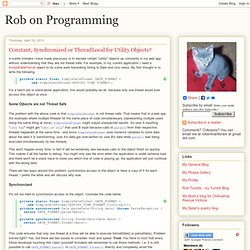 A subtle mistake I have made previously is to declare certain "utility" objects as constants in my web app without understanding that they are not thread safe. For example, in my current application I need a SimpleDateFormat object to do some work translating String to Date and vice versa. My first thought is to write the following.
Constant, Synchronized or ThreadLocal for Utility Objects?
TYPO3 - the Enterprise Open Source CMS: Home
Y Society Following the ideas of Gunter Dueck , philosopher and former CTO of IBM Germany, for an advanced society (focussed on a quarternary economic sector and a view of mankind that is based on theory Y by Douglas McGregor ) some thoughts about how (project) managers become starry-eyed idealists (in a positive sense) improving their environment and society in the end. More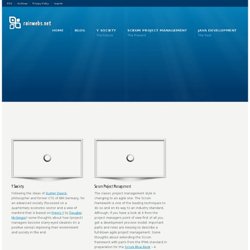 Next Generation Enterprise Web Development | ICEfaces . Spring . Flex/AIR . 3D | rainwebs.net
Best Practice Software Engineering - Observer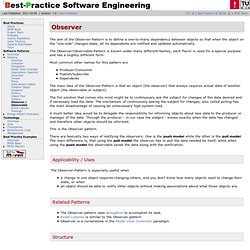 The aim of the Observer-Pattern is to define a one-to-many dependency between objects so that when the object on the "one-side" changes state, all its dependents are notified and updated automatically. The Observer/Observable-Pattern is known under many different Names, each flavor is used for a special purpose and has a slightly different form. Most common other names for this pattern are Producer/ConsumerPublish/SubscribeDependents The main idea of the Observer-Pattern is that an object (the observer) that always requires actual data of another object (the observable or subject).
Ajax Comet real time web application
Static Version In almost all modern programming languages we use the concept of Object Oriented Programming (OOP) to help manage the complexity of today's software. The biggest challenge in modern software is in fact managing the complexity of it. Most languages do this with a variant OOP called Classical OOP. This is the one you see in Java, C#, C++, PHP, Ruby, and Python. It has the idea that classes should be separate from instances.
Prototypal Inheritance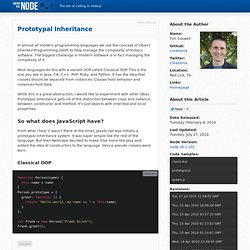 IT Knowledge Exchange Tech Blogs
Better Windows 8.1 Tablet Options for Business UsePosted in Windows Enterprise Desktop by Ed Tittel on 2014-01-10 18:24:56 In my last blog post, I lamented the high costs that come with some special-purpose (ruggedized) or high-function Windows 8.1 tablets. In this post, I take a look at what's available on the other end of the market, both in terms of price and functionality, to explore other, more affordable options f…READ MORE Recommended reading from mrdenny for January 10, 2014Posted in SQL Server with Mr. Denny by Denny Cherry on 2014-01-10 20:28:46 This week I've found some great things for you to read.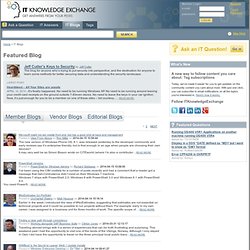 Csound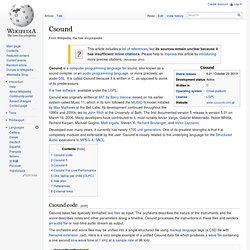 It is free software, available under the LGPL. Csound was originally written at MIT by Barry Vercoe, based on his earlier system called Music 11, which in its turn followed the MUSIC-N model initiated by Max Mathews at the Bell Labs. Its development continued throughout the 1990s and 2000s, led by John ffitch at the University of Bath. The first documented version 5 release is version 5.01 on March 18, 2006.
dm-0804lamb-pdf.pdf (Objet application/pdf)
Entreprise Integration patterns Framework