International
New York - Wall Street is being occupied by protesters against corporate greed. Several of the peaceful protesters have been arrested during the Occupy Wall Street protest by those who say they are the 99 percent of Americans who are facing economic crisis. The protesters are maintaining a peaceful encampment protesting the financial institutions that have been in the protesters words being in control of our land. Starting last weekend with 5,000 people camping on Liberty Street just blocks from the center of the United States banking center protesters have slowly left, today there is only about 200 strong keeping up the peaceful protest.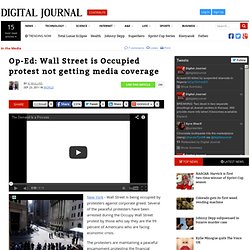 Op-Ed: Wall Street is Occupied protest not getting media coverage
Immortal Technique at Occupy Wall St. Protest Sep. 27 2011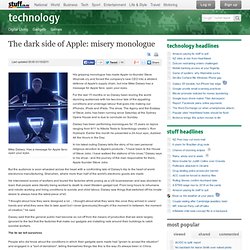 Last updated 05:00 01/10/2011 Mike Daisey: Has a message for Apple fans: open your eyes. His gripping monologue has made Apple co-founder Steve Wozniak cry and forced the company's new CEO into a strident defence of Apple's supply chain, but now Mike Daisey has a message for Apple fans: open your eyes. For the last 15 months or so Daisey been touring the world stunning audiences with his two-hour tale of the appalling conditions and underage labour that goes into making our iPhones, iPods and iPads. The show, The Agony and the Ecstasy of Steve Jobs, has been running since Saturday at the Sydney Opera House and is due to conclude on Sunday.
The dark side of Apple: misery monologue
Sacrificing the Amazon and its Peoples for Dirty Energy Traditional fishing in the Xingu. Photo Credit: Christian Poirier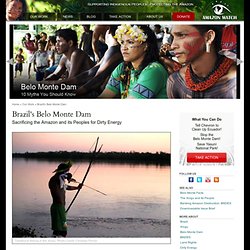 Last updated 10:42 28/09/2011 An independent stock market trader has caused an international stir with claims that "governments don't rule the world, Goldman Sachs rules the world", amid questions about whether he is a prankster or genuine. Alessio Rastani told BBC News on Monday: ''I dream of another recession.'' The Guardian reported that Twitter was abuzz with suggestions that Rastani was actually part of the Yes Men, a band of "identity correction" artists who pass themselves off as the corporations people love to hate.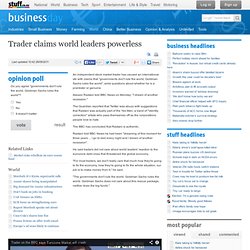 Trader claims world leaders powerless
Arrests over Wall Street protest
Last updated 18:29 25/09/2011 About 80 people were arrested on Saturday as demonstrators who were camped out near the New York Stock Exchange marched through lower Manhattan, police said. The ''Occupy Wall Street'' protest is entering its second week. Demonstrators said Saturday they were protesting against bank bailouts and the mortgage crisis; some also held signs decrying Georgia's execution of Troy Davis, who was put to death Wednesday for the 1989 slaying of an off-duty Savannah police officer. At Manhattan's Union Square, police tried to corral the demonstrators using orange plastic netting. Some of the arrests were filmed and activists posted the videos online.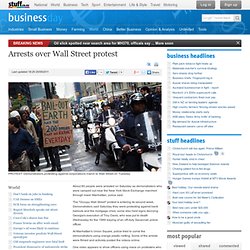 Elizabeth Warren: 'There is nobody in this country who got rich on his own' - National Libertarian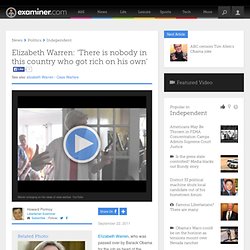 Elizabeth Warren, who was passed over by Barack Obama for the job as head of the Consumer Financial Protection Bureau, has announced she is running for the Senate in 2012. She will vie for the seat from Massachusetts long occupied by the late Ted Kennedy and currently held by Republican Scott Brown. No sooner had Warren formally declared her candidacy than she jumped into the political fray with a disquisition on class warfare, which she views as mythical (h/t The Blaze):
31633.jpg (JPEG Image, 550x411 pixels)
09-21-11 4 - Silent Protest, with Will Bunch - Countdown with Keith Olbermann