Recipes From Another
How to make rainbow cupcakes. How to Make Marshmallow Fondant. This time I decided to make it with those mini fruit flavored marshmallows.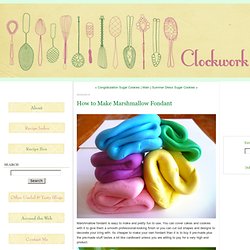 I had to sort them by colour first. I figured they would add a little bit of flavor to the fondant so I wouldn't have to add much flavoring oil. I use gel colours to dye my fondant but regular food colouring will work too. You won't be able to get really dark colours without making your fondant sticky, but for lighter colours you can just even it out with more icing sugar.
I also had lemon oil and coconut flavoring on hand.. oh la la the value brand (which still works fine). Tiramisu Pancakes - Steamy Kitchen : TLC. Tampa Bay, Florida Jaden Hair is a food columnist, television chef, recipe developer and a mom of two little boys who love to eat.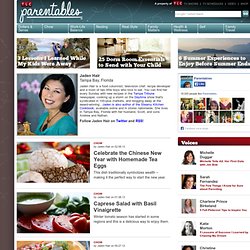 You can find her every Sunday with new recipes in the Tampa Tribune newspaper, cooking up a storm on the Daytime show that's syndicated in 100-plus markets, and blogging away at the award-winning . Sherry's Chocolate Mint Oreo Bars. 1 1/2 cups mini chocolate chips 14 mint creme-filled chocolate cookies 1 (17.5 oz pkg) sugar cookie mix 3/4 cup unsweetened cocoa powder 1 1/4 cups butter, room temperature 2 eggs 2 tsp. vaniila 2 cups confectioners' sugar Preheat oven to 350°F.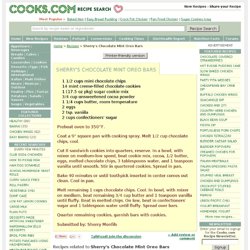 Coat a 9" square pan with cooking spray. Melt 1/2 cup chocolate chips, cool. Chocolate Butterscotch Bars. 1 (6 oz.) pkg. chocolate chips 1 (6 oz.) pkg. butterscotch chips 1 c. creamy peanut butter 1/2 c. butter 1/4 c. milk 2 tbsp. reg. vanilla pudding mix 2 c. powdered sugar 1 tsp. maple flavoring 1 c. salted peanuts Melt chips and peanut butter together and spread half in 9 x 13 inch buttered pan.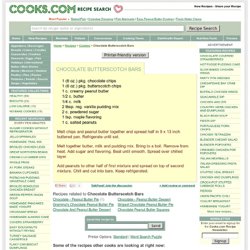 Refrigerate until set. Chocolate Coconut Bars. 14 oz. can sweetened condensed milk 1 tsp. vanilla extract 1 egg 7 oz. bag coconut 1/2 c. chopped pecans 6 oz. pkg. chocolate chips 6 oz. pkg. butterscotch or peanut butter chips 18 oz. pkg. chocolate cake mix 1/3 c. butter, softened 1 egg Blend condensed milk, vanilla and 1 egg.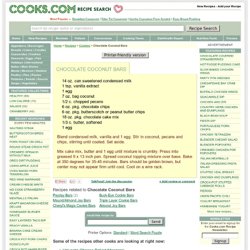 Stir in coconut, pecans and chips, stirring until coated. Set aside.
---