Recipes From Another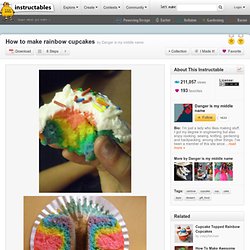 3 Simple Ways to Share What You Make
How to make rainbow cupcakes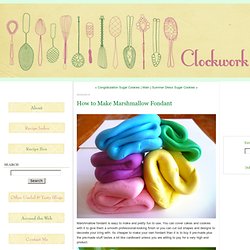 This time I decided to make it with those mini fruit flavored marshmallows. I had to sort them by colour first.
Tampa Bay, Florida Jaden Hair is a food columnist, television chef, recipe developer and a mom of two little boys who love to eat. You can find her every Sunday with new recipes in the Tampa Tribune newspaper, cooking up a storm on the Daytime show that's syndicated in 100-plus markets, and blogging away at the award-winning .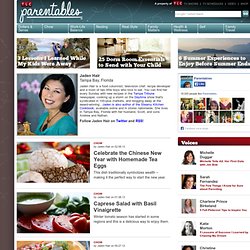 Sherry's Chocolate Mint Oreo Bars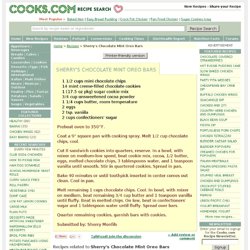 1 1/2 cups mini chocolate chips 14 mint creme-filled chocolate cookies 1 (17.5 oz pkg) sugar cookie mix 3/4 cup unsweetened cocoa powder 1 1/4 cups butter, room temperature 2 eggs 2 tsp. vaniila 2 cups confectioners' sugar
1 (6 oz.) pkg. chocolate chips 1 (6 oz.) pkg. butterscotch chips 1 c. creamy peanut butter 1/2 c. butter 1/4 c. milk 2 tbsp. reg. vanilla pudding mix 2 c. powdered sugar 1 tsp. maple flavoring 1 c. salted peanuts Melt chips and peanut butter together and spread half in 9 x 13 inch buttered pan. Refrigerate until set.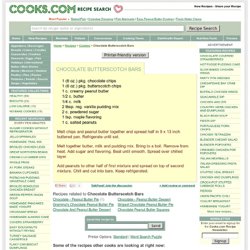 Chocolate Butterscotch Bars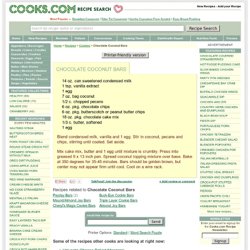 14 oz. can sweetened condensed milk 1 tsp. vanilla extract 1 egg 7 oz. bag coconut 1/2 c. chopped pecans 6 oz. pkg. chocolate chips 6 oz. pkg. butterscotch or peanut butter chips 18 oz. pkg. chocolate cake mix 1/3 c. butter, softened 1 egg
Chocolate Coconut Bars