Interesting Knowledge
20 Really Cool Websites To Help Cure Boredom
The Internet has become big business, and with business comes a lot of seriousness. But there's nothing serious about these cool websites. If you need to cure boredom, then you need an injection of an old-fashioned remedy: web surfing. So, let this list serve as a guide to websites to cure boredom and kill time. Some are old, some are new, but all of them contain a good portion of fun.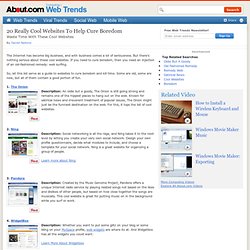 Amazing Posts: 50 Things Everyone Should Know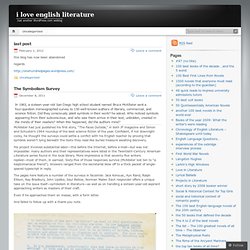 Set up to bring greater attention to contemporary poetry, the Forward prize celebrated its 20th anniversary this week. Fellow poets and writers pay tribute to those who have won the Best Collection. Blake Morrison on The Man With Night Sweats by Thom Gunn, 1992 "I wake up cold," the title poem begins, "I who / Prospered through dreams of heat."
i love english literature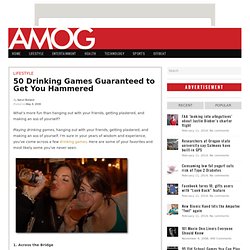 50 Drinking Games Guaranteed to Get You Hammered | AMOG
What's more fun than hanging out with your friends, getting plastered, and making an ass of yourself? Playing drinking games, hanging out with your friends, getting plastered, and making an ass of yourself. I'm sure in your years of wisdom and experience, you've come across a few drinking games. Here are some of your favorites and most likely some you've never seen.
The Shirt
As with all these designs, try to start with a relatively clean, crisp bill. It will make it much easier. All folds should be sharply creased. It helps to go over the fold with a fingernail on a flat, hard surface. Start by folding the bill precisely in half lengthwise.
Audi A9 | Concept Cars
Audi A9 - The future of Audi Luxury? The Audi A9 concept is a stylish proposal for a luxury sports saloon which was developed by the talented Spanish designer Daniel Garcia. Garcia's previous work includes the Ducati 6098 R concept from 2009. The A9 concept would be positioned higher than Audi's current flagship model, the A8, and is aimed at other top-end luxury saloons like the Porsche Panamera, and if it ever went into production, the Lamborghini Estoque. The styling of the A9 concept was partially inspired by the stunning architectural style of Santiago Calatrava's buildings in "La Ciudad de las Artes y de las Ciencias" (The City of Arts and Sciences) in Garcia's hometown of Valencia. This influence can be seen in the clean flowing lines of the vehicle and futuristic styling features.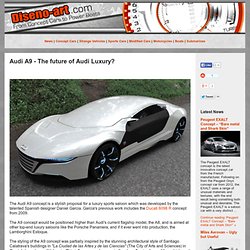 Most Popular Photography Tips, Tricks, and Hacks of 2010
35 Life Hacks You Should Know [PIC]
Infographic of the Day: How Color Affects Purchases | Designerscouch...
Amazing Fact Generator - StumbleUpon
Minimalist Gmail
Facebook Profile Picture Generator - ProfileGen.com
50 Life Secrets and Tips | High Existence