Inspirational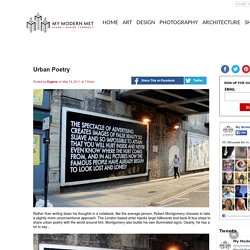 Urban Poetry
Rather than writing down his thoughts in a notebook, like the average person, Robert Montgomery chooses to take a slightly more unconventional approach. The London-based artist hijacks large billboards and back-lit bus stops to share urban poetry with the world around him. Montgomery also builds his own illuminated signs. Clearly, he has a lot to say... Robert Montgomery's website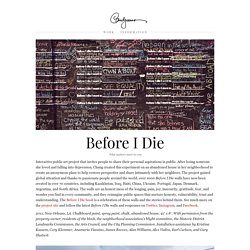 Before I Die & Candy Chang
What is important to you 2011 After Candy Chang lost someone she loved, she went through a long period of grief and depression. With time she felt gratitude for the time they had together and eventually she found clarity in her life by contemplating death so much.
take_a_smile_by_apalipis-d3albe9_large.jpg?1298930432 from whicdn.com
Saying Images-Amazing Images With Inspired Sayings picture on VisualizeUs
thing.4623831.l.jpg (JPEG Image, 300x300 pixels)
a.y.- Quotes in beautiful pics ...oO°
2008-12-08.jpg (500×665)
1797_9350_450.jpeg from soup.io
_l5ftds0cl91qa578so1_500.jpg (488×700)
6a0120a721c2d7970b0133f1c7c40a970b-pi from typepad.com
Inspiration Gallery #139 - Various quotations & From up North.
Inspiration Gallery #173 - Various quotations & From up North.
Quote Book:
love1yx.jpg from imageshack.us