Comfort
Happy Mother's Day! (Want more ideas of what to do with your cupcake pan? Check out my recipe for Sour Cherry Crustless Cheesecake Cupcakes with Sour Cherry Glaze) Back to Mother's Day though!
Snacking In The Kitchen: Mother's Day 2010 Brunch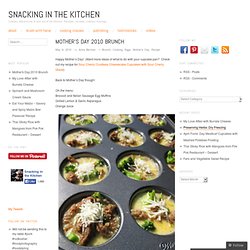 It's been ridiculously hot in NYC this week! Kramer and I have been basically living in front of our fans trying to stay cool and staying outdoors as much as possible because our little apartment definitely doesn't have the best ventilation. We keep reminding ourselves that it's worth it, though, because we live in the best city in the entire world! It's supposed to cool back down into the mid-70s later this week, though, so I'm looking forward to that.
Apple and Bacon Stuffed Pork Chops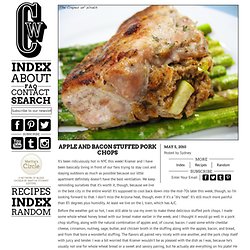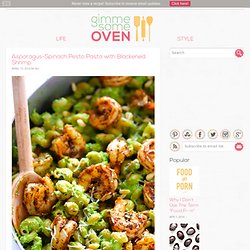 So, you know how I talked in my last post about being on a taco kick in my last post? Well, apparently I tend to cook in waves, because this week has also been shrimp-o-rama here at my place. First I made a batch of lightened-up shrimp scampi, which is coming on the blog next week. Then last night I made my very first-ever homemade shrimp paella with my neighbors from Spain. But the recipe that started it all was my lighter version of a classic — Skinny Popcorn Shrimp! I know.
1 Bring a medium (6- to 8-quart) pot of water to a boil. Salt it generously (it should taste like the sea). Stir in the pasta and cook according to the package directions. Drain (but don't rinse, or you'll rinse away starches that will help thicken the sauce) and return to the empty pot. 2 Meanwhile, place a large (12- to 14-inch) sauté pan over high heat for several minutes. When hot, add the bacon and sauté until browned and crispy (lower the heat to medium-high if necessary to prevent scorching), about 5 minutes.