Craft
Craft - furniture
Best of CRAFT 2010: Most Popular Posts. Craft - terrarrium. Dr. Carol Ventura. DIY modern paper ornament. I love spiky starburst shapes, so I attempted a version of the traditional Polish porcupine ball.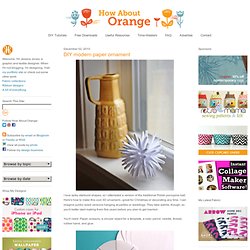 Here's how to make this cool 3D ornament—great for Christmas or decorating any time. I can imagine jumbo sized versions hanging at parties or weddings. How to make doily covered soaps... It's totally faker crochet!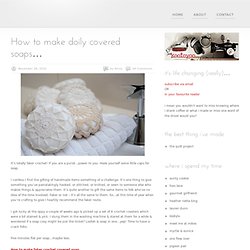 If you are a purist…power to you. Hook yourself some little caps for soap. I confess I find the gifting of handmade items something of a challenge. It's one thing to give something you've painstakingly hooked, or stitched, or knitted, or sewn to someone else who makes things & appreciates them. It's quite another to gift the same items to folk who've no idea of the time involved.
Folding Trees ? Kusudama Tutorial part 1. The Japanese kusudama is a paper ball made out of multiple identical origami shapes glued together.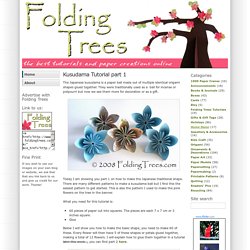 They were traditionally used as a ball for incense or potpourri but now we see them more for decoration or as a gift. Today I am showing you part 1 on how to make the Japanese traditional shape. There are many different patterns to make a kusudama ball but I find this the easiest pattern to get started. This is also the pattern I used to make the pink flowers on the tree in the banner. Tribal Bellydance Marketplace:: Bokano Embroidered Sindhi Wedding Sash : Handmade Sindhi - :: Tribal Belly Dance Costume Accessories. CRAFT Holiday Gift Guide 2009: Gifts You Can Make : Daily source of DIY craft projects and inspiration, patterns, how-tos | Craftzine.com.
They say, "It's the thought that counts."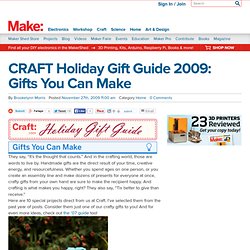 And in the crafting world, those are words to live by. Handmade gifts are the direct result of your time, creative energy, and resourcefulness.
Crafts - packing. Craft - pop up cards. Craft - flowers. Craft - knitting. Craft - terrarrium. Craft - gift ideas. Zipped up Earbuds - MISCELLANEOUS TOPICS. Doily Pillow Tutorial. I made this doily pillow for my midwife, Lori, as a way to say THANK YOU for being more fabulous than I imagined throughout my pregnancy and delivery.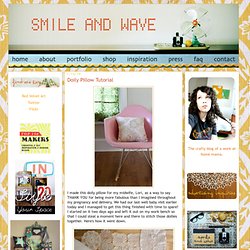 We had our last well baby visit earlier today and I managed to get this thing finished with time to spare! I started on it two days ago and left it out on my work bench so that I could steal a moment here and there to stitch those doilies together. Here's how it went down. May Guest DT plus a paper garland tutorial - Screen Prints BLOG. We have a special treat for you this month- our guest DT is Laurie Cinotto!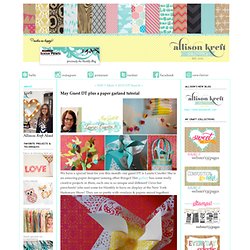 She is an amazing paper designer (among other things)! Her gallery has some really creative projects in there, each one is so unique and different! How To: Make Bath Bombs. Everybody loves bath bombs.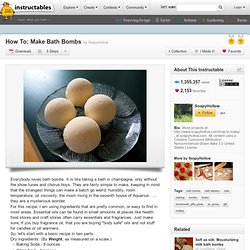 It is like taking a bath in champagne, only without the show tunes and chorus boys. They are fairly simple to make, keeping in mind that the strangest things can make a batch go weird; humidity, room temperature, oil viscosity, the moon rising in the seventh house of Aquarius . . . they are a mysterious wonder.For this recipe, I am using ingredients that are pretty common, or easy to find in most areas.
Craft - lamp
Craft - gardening. DIY: Upholstered Nailhead Trim Headboard. For some time, I'd had my eye on the Modern Velvet Headboard ($280) from Urban Outfitters, but I simply couldn't bring myself to spend $315, including shipping, on the thing.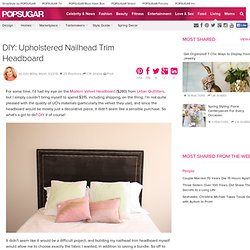 I'm not quite pleased with the quality of UO's materials (particularly the velvet they use), and since the headboard would be mostly just a decorative piece, it didn't seem like a sensible purchase. So what's a girl to do? Ceiling_cat.
Craft - weaving
Craft - jewelry. Craft - quilting. Craft - workshop. Home Page | Sublime Stitching. Handmade days - jeweled tee tutorial. I've been eyeing the tees at j.crew for weeks now, trying to decide if i can spend $50 on a grey t-shirt. in addition to that, i have the "i could make that" problem; i see something i really like, but seems too expensive & shrug it off saying that if i wanted it i could fashion it for myself. this time, i decided to make it happen. the result is a cozy tee with a little bit of sparkle, perfect for a casual, put together day. i thought for a while on color scheme & thought that i would get most wear out of something that was a monotone pallette. i considered doing something pink/beige with gold sequins & beading, but ended up using a heather grey tee with grey tule, silver sequins & both silver & white beads. the j.crew tees run between $40 & $50, this project will cost you around $15-20. i chose a tissue tee from h&m, costing around $7.50; my other supplies ran about $8.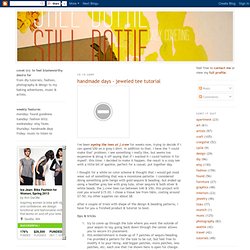 ---