Immanuel Velikovsky
Immanuel Velikovsky Papers, 1920-1996 (bulk 1930-1979) Summary Overview Velikovsky, Immanuel, 1895-1979.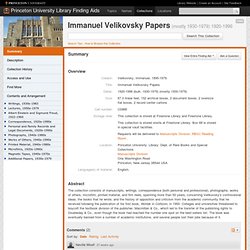 Immanuel Velikovsky Papers. The Immanuel Velikovsky Archive. I. Velikovsky: In the Beginning. Collected Essays. Cosmos Without Gravitation. Phenomena Not in Accord with the Theory of Gravitation Attraction Between Two Atoms. - Inertia. - Attraction of Bodies Toward the Earth. - The Time of Descent and of Ascent of a Pendulum. - The Effect of Charge on the Weight of a Body Attraction, Repulsion, and Electromagnetic Circumduction in the Solar System The Anomaly of Mercury and Other Phenomena Explained THE FUNDAMENTAL theory of this paper is: Gravitation is an electromagnetic phenomenon.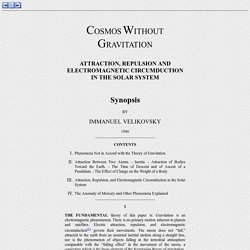 There is no primary motion inherent in planets and satellites. Electric attraction, repulsion, and electromagnetic circumduction(1) govern their movements. Main Page.
---