Debt
Investors: The $1 Billion Armageddon Trade Placed Against The United States (NYSE:SLV, NYSE:GLD, NYSE:TBT, NYSE:TLT, NYSE:SPY. This means someone is confident that the United States is either going to default or is going to lose its AAA rating.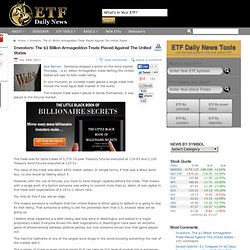 That someone is willing to bet the proverbial farm that U.S. interest rates will be going up. I believe what happened is a debt-ceiling deal was done in Washington and leaked to a major proprietary trader. Everyone knows the debt negotiations in Washington have been an extreme game of brinksmanship between political parties, but now someone knows how that game played out. This had the hallmarks of one of the largest bond shops in the world knowing something the rest of the market didn't. A visualization of US debt (credit card bill) stacked in 100 dollar bills.
Why High Interest Rates Are Good for the Future of the Housing Market and for Those Buying Houses by Matthew Sercely. By Matthew Sercely Many politicians today speak of the dangers of allowing interest rates to rise.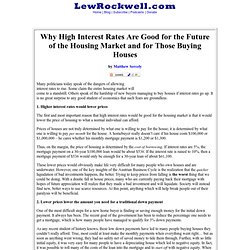 Some claim the entire housing market will come to a standstill. Others speak of the hardship of new buyers managing to buy houses if interest rates go up. It is no great surprise to any good student of economics that such fears are groundless. 1. U.S. Commercial Debt Meltdown. Jim Sinclair | JSMineSet.com Now the credit derivative implosion problem has worked its way into the commercial paper market which since last week has declined by $90 billion.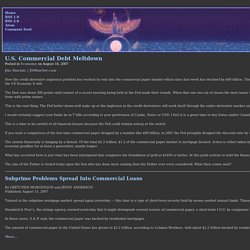 The word is that the commercial paper market for all purposes is closed down, yet Professor Bernanke sleeps on. No one can say with a straight face that a shut down commercial paper market will fail to shut down the US Economy. It will.
---