9/11 Theories
911 Eyewitness proves that the U.S. Government orchestrated the 9/11 attacks!
Concrete evidence shows US government nuked New York City on 9/11
General of all American Intelligence: 911 was a fraud!
Who Killed John O'Neill?
WKJO: Who Killed John O'Neill?
WHO IS ZBIGNEW BRZEZINSKI? [za BIG new, bruh ZIN skee] foreground (or background) advisor on US foreign (and domestic) policy under Johnson, Nixon, Ford, Carter, Reagan, Bush, Clinton, and Bush , appointed National Security Advisor under Jimmy Carter (arguably, Carter served under Brz) co-founder of the TRILATERAL COMMISSION for structuring the world for regional corporate interests, Europe, Asia, Americas lifetime member of the COUNCIL on FOREIGN RELATIONS Tri-Lateral Comm is spinoff of CFR, for US-Intl elites' financial interests. The Tri-Lateral Commission and CFR are not a " conspiracy theory ".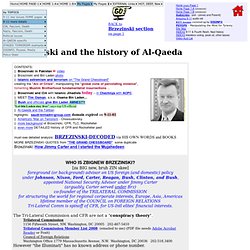 z. brzezinski note
Take Over World (Akron, OH) (homepage 1 of 3)
Complete 911 Timeline
After deciding to end his career as an informant against radical Islamists in London (see April 21, 2000 ), Reda Hassaine reflects bitterly on his experience of the British security services, MI5 and the Metropolitan Police's Special Branch: "These guys I was risking my life for—they hadn't arrested anybody, they didn't do a proper job.
Who Killed John O'Neill?
One Actor, One Room, Seven Characters: 9/11. Traumatized by the September 11th attacks, one man struggles to dismantle official history, at the expense of his sanity and even his life. Grappling with multiple realities - and multiple personalities - he must retreat into his mind in pursuit of the truth.