9/11 Theories
911 Eyewitness proves that the U.S. Government orchestrated the 9/11 attacks!
Concrete evidence shows US government nuked New York City on 9/11
General of all American Intelligence: 911 was a fraud!
Who Killed John O'Neill?
U.S. narcotics policy in Afghanistan has been subordinated ... Who is Tim Osman? Ask Jeeves, he knows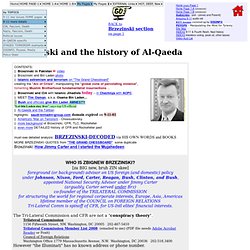 z. brzezinski note
Take Over World (Akron, OH) (homepage 1 of 3)
Complete 911 Timeline
According to the 2008 charge sheet at his military tribunal, 9/11 facilitator Ali Abdul Aziz Ali speaks on the telephone to 9/11 hijacker Nawaf Alhazmi, who is living in San Diego at this time.
Who Killed John O'Neill?
One Actor, One Room, Seven Characters: 9/11. Traumatized by the September 11th attacks, one man struggles to dismantle official history, at the expense of his sanity and even his life. Grappling with multiple realities - and multiple personalities - he must retreat into his mind in pursuit of the truth.