Work
- Happenstance
Launches $1 Million Integration Fund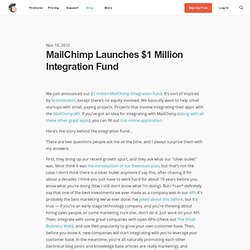 We just announced our $1 million MailChimp Integration Fund . It's sort of inspired by Ycombinator , except there's no equity involved. We basically want to help small startups with small, paying projects. Projects that involve integrating their apps with the MailChimp API .
MailChimp is integrated with many of the web services you already use, so it's easy to sync your data, import content from other sources, and see how your newsletters are making a positive impact on your business. Browse the directory to find out how you can make the most of your MailChimp account. Apply for funding to integrate with MailChimp eCommerce360 We're accepting applications from anyone interested in building an integration with MailChimp's eCommerce360 feature.
Integration Fund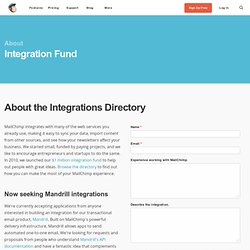 Careers in San Francisco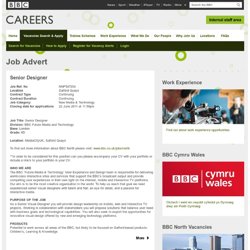 BBC Careers - Job Advert
Leadership - able to assume a formal position of authority. Can establish goals and actively encourage a climate in which potential can be realised. Is able to recognise that potential and provide support, direction and feedback to foster the development of it. Planning and Organising - able to think ahead in order to establish an efficient and appropriate course of action for self and others. Follows through to ensure that quality work is achieved within time and budgetary constraints. Communication - able to get one's message understood clearly by adopting a range of styles, tools and techniques appropriate to the audience and the nature of the information.
BBC Careers - Job Advert
Job Ref. No Location London - Henry Wood House Contract Type Attachment/Fixed Term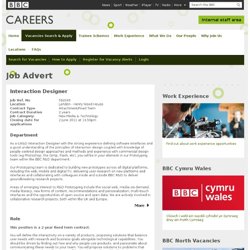 Designer!
Vertical Stretch - HTML / CSS answers
you have to do this is javascript. give all divs a different Id, so that you can refer to them indiviually. Get the height of the viewable area and minus the div height of the footer to give you the target height. then set the other div to this target height: get/set div heights document.getElementById('your_div_id').style.heigh t for the height of the veiwable area, do search on goolge there are plenty of scripts out there.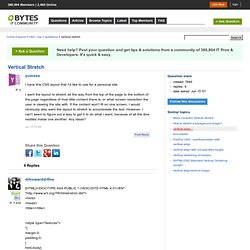 UI Designer Job at GOOD Worldwide LLC
Home / About / Contact Us / Links /
Author: Adam Arnold, Partner, BBH Today sees the launch of The Black Sheep Fund – which we believe is the first venture capital fund of its kind. It is a venture between Zag (BBH's brand invention business) and Spark Ventures – the London based VCs that backed start up phenomena including lastminute.com , Kobalt Music , notonthehighstreet.com and Moshi Monsters . The background is increasingly obvious : There is a dearth of seed funds for start ups. If things feel tighter than they used to be in the States – then it is ten times harder to raise money in Europe right now. The banks demand personal guarantees for business loans (!)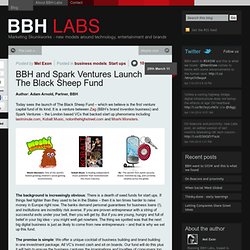 BBH and Spark Ventures Launch The Black Sheep Fund