Social articles
Nielsen have just released their Q3 2011 Social Media Report: Headline findings include: Across a sample of 10 global markets, social networks and blogs are the top online destination in each country, accounting for the majority of time spent online and reaching at least 60 percent of active Internet usersUS – Social networks and blogs continue to dominate Americans' time online, now accounting for nearly a quarter of total time spent on the Internet.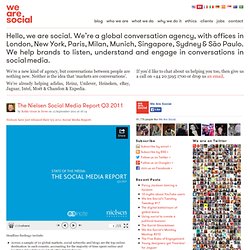 The Nielsen Social Media Report Q3 2011
Can The Next Instagram/Hipstamatic/Klout/Angry Birds Be Born Within An Agency?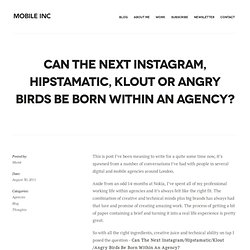 This is post I've been meaning to write for a quite some time now, it's spawned from a number of conversations I've had with people in several digital and mobile agencies around London. Aside from an odd 14-months at Nokia, I've spent all of my professional working life within agencies and it's always felt like the right fit. The combination of creative and technical minds plus big brands has always had that lure and promise of creating amazing work. The process of getting a bit of paper containing a brief and turning it into a real life experience is pretty great.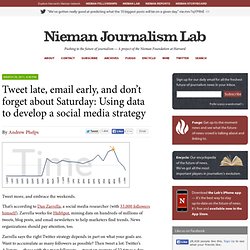 Tweet more, and embrace the weekends. That's according to Dan Zarrella, a social media researcher (with 33,000 followers himself). Zarrella works for HubSpot, mining data on hundreds of millions of tweets, blog posts, and email newsletters to help marketers find trends. News organizations should pay attention, too. Zarrella says the right Twitter strategy depends in part on what your goals are. Want to accumulate as many followers as possible?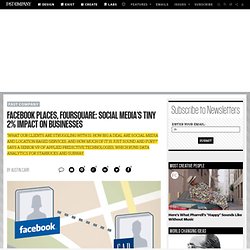 Facebook Places, Foursquare: Social Media's Tiny 2% Impact On Businesses
"You've got your Groupon and Living Social, and your Foursquare and Facebook Places," says Jonathan Marek. "What our clients are struggling with is: How big a deal are social media and location-based services, and how much of it is just sound and fury?" That's the question on the mind of most every marketer and retailer--and Marek might finally have an answer. Marek is senior VP at at Applied Predictive Technologies (APT), a software company that provides data and analytics to some of the biggest retailers and restaurants in the world, including Starbucks, Staples, Subway, and more. As he explains, APT essentially runs "clinical drug trials for businesses," measuring the incremental impact on sales of everything from traditional ad and social media campaigns to storefront physical remodeling and relocation.
The Other Kind of iPad Magazines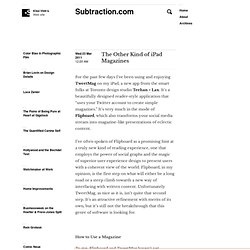 For the past few days I've been using and enjoying TweetMag on my iPad, a new app from the smart folks at Toronto design studio Teehan + Lax. It's a beautifully designed reader-style application that "uses your Twitter account to create simple magazines." It's very much in the mode of Flipboard, which also transforms your social media stream into magazine-like presentations of eclectic content. I've often spoken of Flipboard as a promising hint at a truly new kind of reading experience, one that employs the power of social graphs and the magic of superior user experience design to present users with a coherent view of the world. Flipboard, in my opinion, is the first step on what will either be a long road or a steep climb towards a new way of interfacing with written content.
The 5 Social Media Game Plans for Super Bowl Advertisers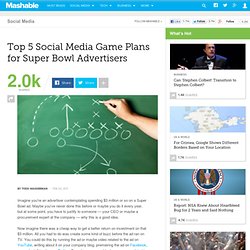 Imagine you're an advertiser contemplating spending $3 million or so on a Super Bowl ad. Maybe you've never done this before or maybe you do it every year, but at some point, you have to justify to someone — your CEO or maybe a procurement expert at the company — why this is a good idea. Now imagine there was a cheap way to get a better return on investment on that $3 million. All you had to do was create some kind of buzz before the ad ran on TV. You could do this by running the ad or maybe video related to the ad on YouTube, writing about it on your company blog, premiering the ad on Facebook, or maybe talking it up on Twitter.
Click here to go to the latest Digital Life website, The largest global study into people's attitudes and behaviours online. Click here to watch our new animation about the 6 Digital Lifestyles. Do you have a question about Digital Life? Why not tweet us it.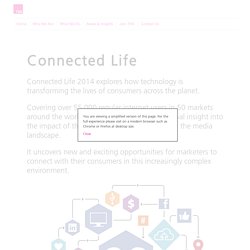 SPINNING AROUND: SEVENTY SEVEN THINKING OUT LOUD: TWENTY FIVE BRANDS USING TWITTER RATHER WELL ...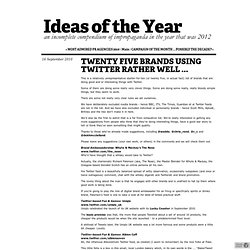 This is a relatively unrepresentative starter-for-ten (or twenty five, in actual fact) list of brands that are doing good and or interesting things with Twitter. Some of them are doing some really very clever things. Some are doing some really, really bloody simple things, but they seem to work. There are some not really very clear rules we set ourselves. We have deliberately excluded media brands - hence BBC, ITV, The Times, Guardian et al Twitter feeds are not in the list. And we have also excluded individual or personality brands - hence Scott Mills, AplusK, Britney and the like don't make it in here.
How to Style an Application Like Facebook - Devtacular
Introduction So you have a great idea for an application, and you've developed your idea into a somewhat functional Facebook app. The only problem is, it looks completely out of place in the space Facebook has designated for your layout. Let's look at how we can change that. Facebook invested a lot of money in creating the fluid graphic design work you see in front of you, but we won't have to.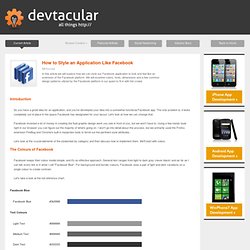 Apple just unveiled a social network based on music, built right into iTunes called Ping. Steve Jobs says "It's for social music discovery. You can follow people and be followed on Ping."
Apple Introduces A Social Network: Ping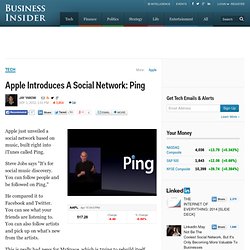 Ignore social media? Not a cat's chance… » pr-media-blog.co.uk
August 25th, 2010 by Jon Clements Type "woman" into Google search today – in fact, go as far as "w-o-m" and you will be presented with "woman puts cat in bin"; 1.97m searches on this term alone, just a day after a Coventry woman was filmed putting kitty in the litter. Not only is the story a shocking example of animal cruelty, it's a salutary lesson to any organisation that hasn't yet recognised the power of social media. Imagine that the hapless Coventry woman at the centre of the furore was, instead, your company or brand. Look at the facts: number one in Google search; more than 50,000 views on YouTube; nearly 30,000 fans on Facebook, posting nearly 1,000 comments on the matter; 743-and-counting online news articles and, now, a police guard on the offending woman's home.
The UK's media consumption habits / we are social
Ofcom released its seventh annual communications market report last week. Its a goldmine of information about media consumption habits in the UK and is worth reading in full, the internet section in particular. In terms of social media usage, it reveals interesting data such as: Social networking (in blue) is an all day long activity, filling the gaps between traditional media: The data above illustrates the popularity of television in the evening, when over half (52%) of all media activities undertaken involves watching television on a TV set. In the morning, radio is more popular, but declines by the evening when TV is at its peak.
Videos Posted by Facebook: Why to Check In? [HD]
UPDATE on Friday, August 20, 2010: Have questions about how to control your sharing through Places? We've created a video that explains our simple and powerful privacy settings. Watch it here. UPDATE on Thursday, August 19, 2010: Places is slowly rolling out to all US users. If you have already downloaded the new version of the Facebook iPhone application or are accessing the touch.facebook.com, but are not yet able to check in, please try again soon.
Who, What, When, and Now...Where
Gradual Engagement Boosts Twitter Sign-Ups by 29%
Twitter recently redesigned their sign-up process to boost new user engagement. Though the new sign-up process added one more screen, conversions went up 29%. How? Gradual engagement. Gradual engagement is the process of moving a user through an application or service – actually engaging with it, and seeing it's benefits. With gradual engagement, new users are not just presented with a registration form and then dropped off a cliff (typical process in many Web applications).
Facebook Will Allow Users to Share Location - Bits Blog - NYTime
5 Essential Social Media Infographics For Marketers
Facebook Design: One Brand, One Button - or - One Button to Rule Them All: A Note
Twitter's most radical idea yet: advertising that adds value « B
The collected game design rants of Marc LeBlanc