Second screen
the new way to watch television
2Screen 2010 - Kevin Slavin on Vimeo
New mobile trends emerge in UK
Viewing Internet content on HDTV is a painfully tricky affair these days but Snapstick thinks they can succeed where others have crashed and burned. Forget Google TV, Boxee Box and Apple TV for a moment. Snapstick's whole philosophy seems different and that's where it might have a chance.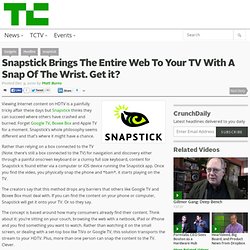 Snapstick Brings The Entire Web To Your TV With A Snap Of The Wrist. Get it?
Snapstick brings the web to your TV with a flick of the wrist - FLIP MODE.