Design blogs
evalottchen's photosets on Flickr
TED Quotes are made possible by Allianz SE Facts, insight and humor —in shareable bites TED Quotes brings you salient bits of TEDTalks, on everything from activism to storytelling, from chemistry to curiosity.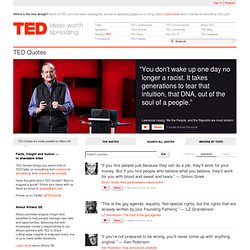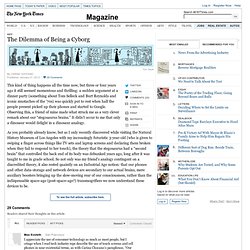 The Dilemma of Being a Cyborg
As you probably already know, but as I only recently discovered while visiting the Natural History Museum of Los Angeles with my increasingly futuristic 3-year-old (who is given to swiping a finger across things like TV sets and laptop screens and declaring them broken when they fail to respond to her touch), the theory that the stegosaurus had a "second brain" that controlled the back end of its body was debunked years ago, long after it was taught to me in grade school. So not only was my friend's analogy contingent on a discredited theory, it also rested quaintly on an Industrial Age notion: that our phones and other data-storage and network devices are secondary to our actual brains, mere auxiliary boosters bringing up the slow-moving rear of our consciousness, rather than the indispensable space-age (post-space-age?) transmogrifiers we now understand these devices to be. "We're all cyborgs now," the anthropologist Amber Case said in a TED talk in 2010.
You always remember the first time someone calls you ugly on the internet. I imagine -- although it hasn't happened to me -- you always remember the first time someone threatens to rape you, or kill you, or urinate on you. The sheer volume of sexist abuse thrown at female bloggers is the internet's festering sore: if you talk to any woman who writes online, the chances are she will instantly be able to reel off a greatest hits of insults.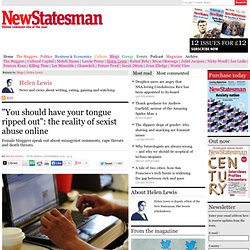 "You should have your tongue ripped out": the reality of sexist abuse online
Reading "Steve Jobs": The Upside Of Unreasonable Demands | Co. Design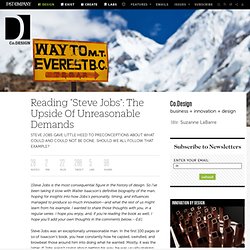 [ Steve Jobs is the most consequential figure in the history of design. So I've been taking it slow with Walter Isaacson's definitive biography of the man, hoping for insights into how Jobs's personality, timing, and influences managed to produce so much innovation--and what the rest of us might learn from his example. I wanted to share those thoughts with you, in a regular series. I hope you enjoy, and, if you're reading the book as well, I hope you'll add your own thoughts in the comments below.--Ed. ]
JULIE DIGS DESIGN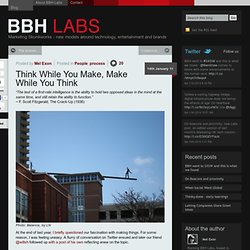 Think While You Make, Make While You Think
"The test of a first-rate intelligence is the ability to hold two opposed ideas in the mind at the same time, and still retain the ability to function." ~ F. Scott Fitzgerald, The Crack-Up (1936) Photo: Balance, by LN At the end of last year, I briefly questioned our fascination with making things.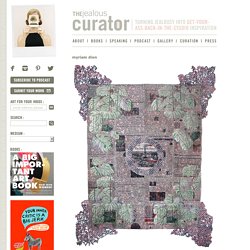 These arrived in my inbox the other day. Yep, I love this "job"! Chilean artist, Pascuala Lira made my heart skip a beat with her lovely compositions, gorgeous color choices, and yes, I kinda love that lady behind the couch! Blue-soled shoes? Amazing.
Gestalten's videos on Vimeo
Google Zeitgeist
• Quipsologies, is a division of UnderConsideration , chronicling the most curious, creative, and notable projects, stories, and events of the graphic design industry on a daily basis. • Quipsologies uses TypeKit to render P22 Underground, Skolar Web by TypeTogether, and Coquette by Mark Simonson. • Quipsologies is run with Six Apart's MovableType 4.32-en • Syndicate / RSS Feed • All comments, ideas and thoughts on Quipsologies are property of their authors; reproduction without the author's or Quipsologies's permission is strictly prohibited • Contact us by e-mail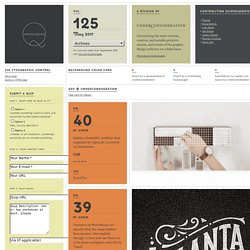 RJ Duran tagged: tagr.tv on Boulder Digital Works at CU
CursiveBuildings
bluepoolroad
Creative
If you still have one of those older keyboards, it's probably amongst the uglier things on your desk. No matter how much well-needed utility they provide, they've never scored well in the esthetics department. Much like the MTA card project last year, an artist took it upon themselves to transform these monsters into something actually worth looking at.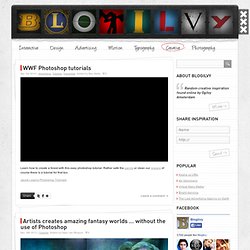 HTC 1
Hamish Hamilton: Five Dials
Five Dials is a magazine published by Hamish Hamilton, edited by Craig Taylor. To be kept up-to-date on new issues, please consider subscribing to the mailing list . An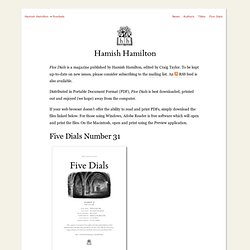 Lo-Fi | Oliver Dore