Terence McKenna
Terence McKenna - The Challenge. The Best Interview about drugs : Terence McKenna in Mexico 1996. Oss & Oeric: Psilocybin Mushroom Cultivation. Terence McKenna Vault. Terence McKenna was a psychedelic author, explorer, and showman.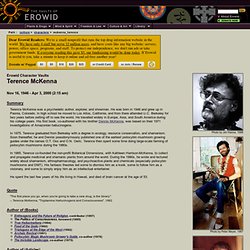 He was born in 1946 and grew up in Paonia, Colorado. In high school he moved to Los Altos, California, and from there attended U.C. Terence McKenna - Nobody is smarter than you are Kinetic Typography. Terence Mckenna the entity and the elves of psilocybin. Terence Mckenna - Culture is your operating system. Terence Mckenna we are sick without psychedelics. Terence McKenna: Culture is not your friend. Terence McKenna - Nature Loves Courage. Terence Mckenna I'm stoned and I'm proud. Terence McKenna ~ Inspiration Through Cannabis.
Terence McKenna - Collective Skin of Our Culture - Aslan Osiris. Terence Mckenna - How to understand reality. Media : McKenna.