TV series, video games, comics....
Www.legeekmoderne.net. Bluray-collec. Dailycious Info. CATSUKA :: Sp!nz Show Room. BlOg. Le Journal du Gamer - Feed the Gamer Inside. Atout-geek. PressReplay.fr. Video Games, Game Reviews & News. Video Games, Cheats, Walkthroughs, Game Trailers, Reviews, News, Previews & Videos at IGN. Freak´s City. Juegos y Trucos - Mario, Sonic, Wii - retropia. Lostpedia - The Lost Encyclopedia.
Kotaku, the Gamer's Guide. iFan, le blog de Yohann Thiou. NERDZ ! Acheteur Compulsif. GAMEBLOG.fr - JEU VIDEO. DIGITALGAMES - Jeux Vidéo et Culture. PSPGEN. PS3GEN. Blogamer.fr » Le jeu vidéo vu par le joueur. Games and Geeks - tshirts geek jeux video gadget USB hightech. Un vélo en carton Dans la série des projets improbables, voici le vélo en carton.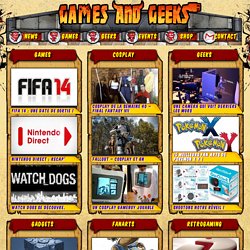 Cotton Candy, le PC qui tient dans la poche Après le Raspberry Pi, voilà le Cotton Candy. Super Mario en soutien gorge Des soutien-gorges Super Mario peint à la main. Geek vintage pour les fans et nostalgiques de la culture geek. GAMOPAT : Le jeu vidéo revu et corrigé par les docteurs barbus. PlayStation.Blog : The official PlayStation blog for all of your. Uriel no Sekai : Jeux-vidéo, anime/manga, figurines... You Gamer - Le Webzine de la Game Culture. Blog Jeux Vidéo, Cinéma, Playstation 3, Xbox 360, Blu Ray... Io9. We come from the future. El Blog de Manu. ComingSoon.net: Movie Trailers, New Movies, Upcoming Movies, 2010 Movies, Films, DVDs, TV, Videos, Clips.
---