Travel sites 2
AsWeTravel is a comprehensive travel site for anyone who enjoys traveling. From first-time travelers, to well-seasoned travel enthusiasts, or even those with a wanderlust soul… you will find AsWeTravel full of the latest travel advice, clutter-free city guides, fun travel tips and HD travel videos from around the world. Everything we post on As We Travel is aimed to provoke and inspire you to get out there, travel and enjoy everything this amazing world has to offer. Where is your next destination? A wonderful "Goodbye Dance" from a visit to Uganda… a farewell like this one makes it hard to leave & tempts you to go back! When was the last time you traveled and didn't want to go home?
As We Travel - Around The World Travel And Backpacking Advice Blog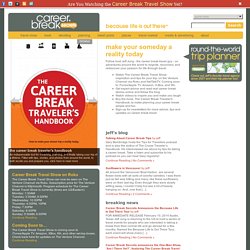 Career Break Secrets
Follow host Jeff Jung - the career break travel guy - on adventures around the world to reignite, reconnect, and rediscover your passion for life through travel. Watch The Career Break Travel Show: inspiration and tips for your trip; on the Venture Channel via Roku and NetTalkTV. Coming soon to iTunes/Apple TV, Amazon, X-Box, and Wii. Get expert advice and read real career break stories online and follow the blog Watch videos to inspire you and make you laugh Buy the book, The Career Break Traveler's Handbook, to make planning your career break simple and fun Sign-up for newsletters for more advice, tips and updates on career break travel jeff's blog Sunflowers in Vancouver by jeff
PEOPLE DOING AWESOME THINGS RIGHT NOW | Wandering Trader's Travels
Hi and welcome to The Longest Way Home, From personal travel journal to a website that's developed into providing you with practical travel help from what I've learned on this journey since 2005-present. I reveal insights into both old & new world culture. Real travel guides on exploring our planet practically. Big photos with dashings of food articles.
The Longest Way Home | a guy traveling the world in search of home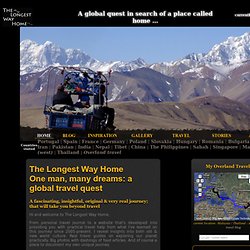 Speaking Out! – Favorite Sites A while back, I asked people for their answers to three questions, including a 'short' explanation for each one. I received what I asked for and more. So, without further ado, enjoy the read (and links)! » Continue Reading
TravelBlogs ??Travel Stories, Advice and the Internet?s Best Travel Blogs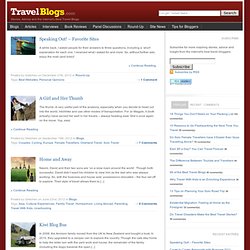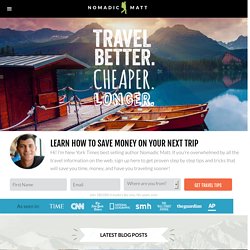 Come Watch My Free Online Travel Course! Two months ago, I was asked to do an online travel course with Creative Live. Creative Live is an organization that runs free online classes on everything from… The Future of Guidebooks with Travel Legend Pauline Frommer A few years ago, I interviewed travel legend Pauline Frommer, picking her brain for great travel tips. Since that time, the guidebook company that bears her family name… How to Avoid Paying Bank Fees While Traveling Banking overseas is more than just putting your card in an ATM.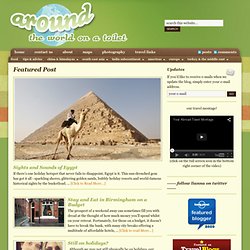 Around The World On A Toilet —
Stay and Eat in Birmingham on a Budget The prospect of a weekend away can sometimes fill you with dread at the thought of how much money you'll spend whilst on your retreat. Fortunately, for those on a budget, it doesn't have to break the bank, with many city breaks offering a multitude of affordable hotels, … [Click to read More...] Still on holidays? Although we may not still physically be on holidays, our writing abilities are still gorging themselves on baguettes in Europe. While we await their return, check out my post on the G Adventures blog where I explain our tips for staying on budget in … [Click to read More...]
The Lost Girls - Lost Girls World
With their 28th birthdays looming, three friends quickly rocketing towards management positions, mortgages, and marriages, all share a similar fear: Is this what they want, or what they think they should want? Feeling in serious need of perspective, they decide to leave it all behind, quit their jobs, and begin an epic search for meaning and enlightenment. Traveling 60,000 miles around the world, from the mountains and jungles of South America to the beaches of Australia, passing through Kenya, India, Southeast Asia, and New Zealand along the way, the trio will not only find themselves, but a lifelong friendship.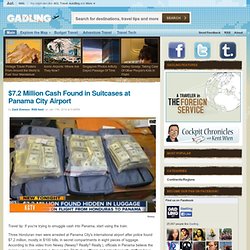 Joanne and Gary, rival travel agents compete for their industry's top honor, the Globel Prize, while trying to address their clients' impossible demands in an Off-Broadway comedy that debuts this week, "Craving for Travel." The 85-minute, two-actor, 30-character comedy was commissioned and produced by Jim Strong, president of the Dallas-based Strong Travel Services travel agency. "Travel agents are always asked to do the impossible, and this play shows how that is done, from finding the impossible rooms to making dreams come true," Strong told the "Dallas Morning News." "I decided to bring it to life on stage as a comedy in New York."
Miyajima, a sacred island in Japan. So sacred in fact that its famous Itsukushima Shinto Shrine (now a UNESCO site) was designed very cleverly 500 years ago in a way that prevented anyone from actually touching it. You see, raised walkways provided a way for pilgrims to visit the island without coming into direct contact with the island's sacred ground. The purity of the island was kept in check for hundreds of years.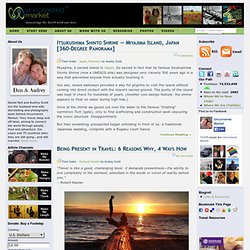 I've been traveling for awhile now and have learned that, as Twain said, "travel is fatal to prejudice, bigotry, and narrow-mindedness". I walked away from a job where I sat at a desk in a fancy chair and a life that involved a lot of tv watching, drinking expensive beers and hanging out with friends at restaurants and bars. To me, that was the 'Real World'. When I began this journey, I was –in my mind– heading into something that was exotic and enticing but somehow less than my world at home.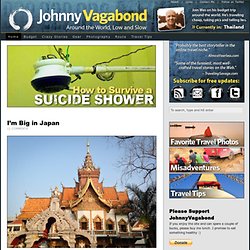 Johnny Vagabond | Traveling Cheap, Taking Pics, and Telling Lies
Spunky Girl Monologues
Entre 2001 y 2010, el turismo en Estados Unidos tuvo unos cuantos años de escaso dinamismo y poco crecimiento. El escenario comenzó a revertirse a partir de 2010, de la mano de la debilidad relativa del dólar, que hacía a Estados Unidos un país no tan caro para visitar, y el crecimiento económico de los países emergentes, cuyos turistas tienen mucha preferencia por visitar ciudades estadounidenses como Miami y New York. Cuando revisamos el listado de los 20 países que más turistas envían hacia Estados Unidos, algunos de ellos son obvios referentes desde hace mucho tiempo, como Canadá, México, Gran Bretaña y Japón. Pero lo interesante es que estos países ya no muestran las tasas de crecimiento de otros tiempos. En su lugar, naciones como Brasil, China, Taiwán, India, Venezuela, Colombia y Argentina son los que más dinamismo mostraron el año pasado. Veamos la lista por países, cantidad de turistas y tasa de crecimiento entre 2012 y 2013.
Blog de Viajes
Kaleidoscopic Wandering
National Geographic Blogs on Travel, Environment, News, Books, P
¿Qué alfajores siempre traes de un viaje? Les preguntamos a nuestra comunidad en Facebook cuál era el alfajor que no pueden dejar de compar al regresar de un viaje. A continuación podrás encontrar diez opciones - algunas sugeridas por la comunidad, otras sugeridas por Lugaresdeviaje - de los alfajores más recomendados.
Lugares de Viaje
Trip on a KLR650 Motorcycle From Canada to Mexico, Central and S