Comics
001; In which Murder is confessed. I went to lunch today at a new market-slash-sandwich place that just opened in my neighborhood.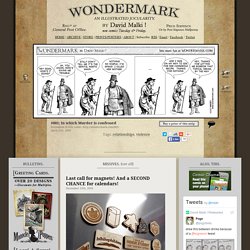 It was really good! The market (and neighborhood) is the type to offer fancy organic cold-pressed juice for eleven dollars and artisanal almond milk that comes in something that looks like baby food jars, so when I got this fork to eat my side salad with, at first I wasn't sure if it was something exotic and fancy: GoComics. The official Dilbert website with Scott Adams' color comic strips, animation, mashups and more! Garfield Minus Garfield. Giant In the Playground Games.
Sinfest: The Webcomic To End all Webcomics. DorkTower. PvPonline. Looking for Group. XKCD. Saturday Morning Breakfast Cereal.
---