AJAX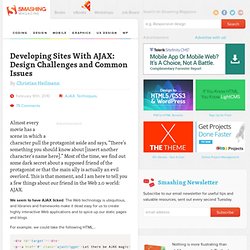 Developing Sites With AJAX: Design Challenges and Common Issues - Smashing Magazine
Advertisement Almost every movie has a scene in which a character pull the protagonist aside and says, "There's something you should know about [insert another character's name here]." Most of the time, we find out some dark secret about a supposed friend of the protagonist or that the main ally is actually an evil overlord. This is that moment, and I am here to tell you a few things about our friend in the Web 2.0 world: AJAX. We seem to have AJAX licked. The Web technology is ubiquitous, and libraries and frameworks make it dead easy for us to create highly interactive Web applications and to spice up our static pages and blogs.
Add elements to the set of matched elements. Add the previous set of elements on the stack to the current set, optionally filtered by a selector. Adds the specified class(es) to each of the set of matched elements. Insert content, specified by the parameter, after each element in the set of matched elements. Register a handler to be called when Ajax requests complete.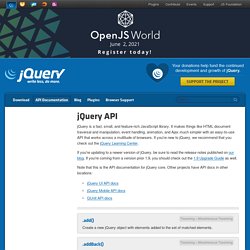 Advertisement Web-developers can create amazing web-applications with AJAX. Stikkit1, Netvibes2, GMail3 and dozens of further web-projects offer a new level of interactivity we've used to give up the idea of. Modern web-applications can be designed with enhanced user interfaces and functionalities, which used to be the privelege of professional desktop-applications. AJAX makes it possible to create more interactive, more responsive and more flexible web-solutions.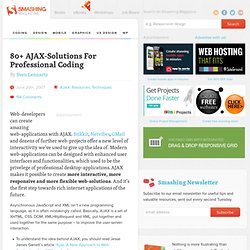 80 AJAX-Solutions For Professional Coding