Labels alimentation...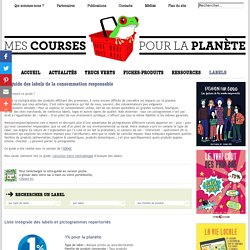 Malgré la multiplication des produits affichant des promesses, il reste encore difficile de connaître les impacts sur la planète des produits que nous achetons. C'est notre ignorance qui fait de nous, souvent, des consommateurs peu exigeants et facilement satisfaits ! Pour se repérer, le consommateur utilise, lors de ses achats quotidiens en grandes surfaces, boutiquesou sur des sites marchands, de nombreux labels, logos et autres signes de qualité.
F.G.P Inspection & Certification (Pvt) Ltd. (FGP IC) is based in Sri Lanka, and has an international body of trained inspectors in Sri Lanka, India, Philippines and Latin America (Ecuador) etc. The inspectorate has been trained in complementary skills to carry FGP inspections. One aspect being Organic production methods and regulations, administration, labeling requirements etc., and the other aspect going beyond it : Identifying soils and soil types, social conditions, carbon, landscape and Identifying species indicators: Soil macro organisms, invertebrates, birds, fish, insects, aquatic organisms, amphibians, palms and plants etc.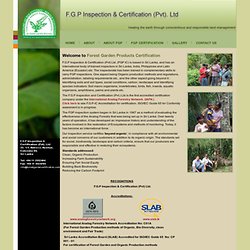 Forest Garden Products Inspection & Certification (Pvt.) Ltd.
When you buy UTZ Certified coffee, cocoa or tea you are helping build a better future. UTZ Certified stands for sustainable farming and better opportunities for farmers, their families and our planet. The UTZ program enables farmers to learn better farming methods, improve working conditions and take better care of their children and the environment. Through the UTZ-program farmers grow better crops, generate more income and create better opportunities while safeguarding the environment and securing the earth's natural resources.
UTZ CERTIFIED 'Good inside'