Kaamitch
Kathy Mitchell-Garton
artist, writer, technology explorer
Are Librarians, Not Seth Godin, The Ones Missing the Point on Libraries? « The Unquiet Librarian
Seth's Blog: The future of the library via kwout Twitter is lit up today with divergent responses to Seth Godin's post, "The Future of the Public Library." I think Godin is spot-on with his thoughts and observations, particularly the idea that libraries "…ought to be the local nerve center for information." Note he doesn't see information only in BOOKS, but information in multiple spaces or "containers", period. Although he isn't the first to do it, Godin's call to reconceptualize libraries and his emphasis on the real meaning of "library" as being embedded in the work librarians do is powerful; Godin's call disrupts the traditional precept of the library as being book-driven.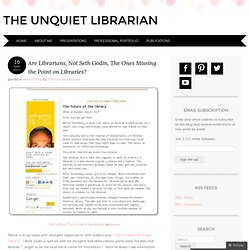 http://web.law.duke.edu/cspd/publicdomainday/2014/pre-1976 What Could Have Entered the Public Domain on January 1, 2014? The books On the Road, Atlas Shrugged, and The Cat in the Hat, the films The Bridge on the River Kwai, Funny Face, and The Prince and the Showgirl, the play Endgame ("Fin de Partie"), and more. . . Congress Shrugged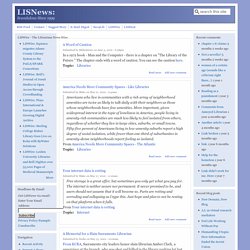 The scope of library discovery services continues to evolve. We might characterise the situation we are in now as full collection discovery. The model is of a cloud-based, central index, where the goal has been unified results across collection types delivered in a single search box.The full collection includes material from the catalog, journal articles, and sometimes local digital repository material. Several so-called 'discovery layer' products (including Worldcat Local) are now used to provide this functionality. From this stage, I think we can see several interesting evolutions in scope, as change continues.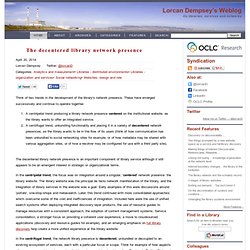 Lorcan Dempsey's Weblog
Website design & creation
winnowTag eBooks in Education
ReadWriteWeb - Web Apps, Web Technology Trends, Social Networking and Social Media
Kathy Mitchell - Quora
Digital content in schools