PULP
Celebrity Gossip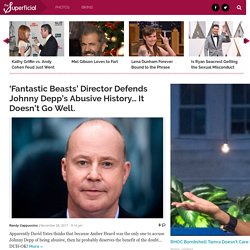 The Crap We Missed – Thursday 1.16.14 Welcome to Thursday's The Crap We Missed where I'd like to deviate from the usual program of yoga-panted ass to share with you guys a lesson I learned today. You see, when you live on the Internet like I do, it's not always kittens in baskets and Saved By The Bell gifs, sometimes it's plain hard truths. Truths like instead of wasting four years of life on exactly the college major I chose – #5, I should have learned how to manage the restaurant I'll inevitably end up working in. Point taken, Internet, point taken. *digs flare out of cigar box, wipes away tears* So, sorry to my buddies at Take One, but it looks like my interning efforts were for naught as it's only a matter of time now before I'm counting how many extra sides of ranch requests it will take for me to take my own life.
Problem loading page
This is so hateful, it's heartbreaking! No one should ever be judged for who they love - no matter what! On Oprah's Where Are They Now, Tia and Tamera Mowry talk about where they are in life after their hugely successful sitcom in the 90s, Sister, Sister. In their segment, Tamera opens up about being a victim of internet hate and how the comments about her marriage to hubby Adam Housley affect her. Srsly, the comments she reads out are terrible.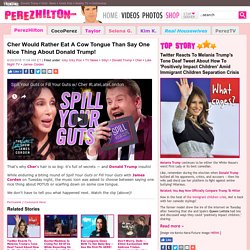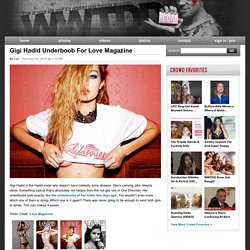 By LexJanuary 16, 2014 @ 3:35 PM Even Al Qaeda knows you don't just grab a Westerner and put them on camera to talk about how the U.S. is the Great Satan. No, they rehearse with their kidnap victim, they practice, they lay down some vicious and brutal beatings to completely break the spirit. Then they turn on the cameras.
Welcome - What Would Tyler Durden Do: Celeb gossip, rumors, scandals, pictures and videos
People.com : The #1 Celebrity Site for breaking news, celebrity pictures and star style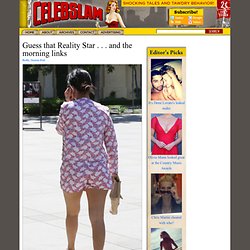 What reality star does that butt belong to? Identity revealed on PAGE 2 (click the picture to jump) . . . + Alex Pettyfer fingering Marloes Horst right in the middle of Coachella [The Superficial] + The 60 Sexiest Jewish Girls We Can't Passover [Linkiest] + This man might have the best job in the world [Guyism] + Hot chick pounding a $25 hot dog [Busted Coverage] + Emilia Clarke looking pretty alright [Drunken Stepfather] + Has Oprah given up on Lindsay?
Celebslam: Shocking Tales and Tawdry Behavior!
Cele|bitchy
Wow, could it be that Ireland Baldwin out-cleavaged Kate Upton at a public event? It would be earth shattering news, and I'm not sure that is even humanly possible, but Ireland Baldwin certainly showed up proud and chest-showy to the Sports Illustrated 50th Anniversay party, taking on Kate Upton at her own game, albeit, in a dress Kate could probably not survive without an R-rating herself due to funbag gravitational pull. Both sextastic young ladies looked outrageously hot at the event, while a woman old enough to easily be their mom, Christie Brinkley, nearly stole the entire event with her age-defying alluring blonde charms. I'm not exactly sure how she does it, but she done did it, and stood alongside Ireland and Kate and still getting just as many leers and lecherous looks. Just one smoking evening with three ladies I'd love to play strip ping-pong with, that is my natural sport. Enjoy.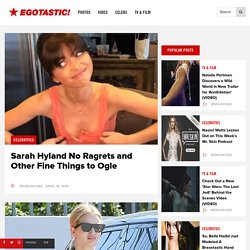 Egotastic! The Sexy Side Of Celebrity Gossip