Curation
Is Content Curation The New Black? Content is king…right?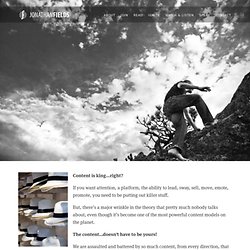 If you want attention, a platform, the ability to lead, sway, sell, move, emote, promote, you need to be putting out killer stuff. But, there's a major wrinkle in the theory that pretty much nobody talks about, even though it's become one of the most powerful content models on the planet. The content…doesn't have to be yours! We are assaulted and battered by so much content, from every direction, that 99% of the time, we don't know where to look first. We don't know what's critical or what's crap. Curation Nation: How to Win in a World Where Consumers are Creators (9780071760393): Steven Rosenbaum. Steve Rosenbaum: Fred Wilson, Uri Milner: Is Curation VC's Big New Thing? There are some things we all agree are broken.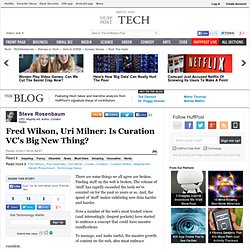 Finding stuff on the web is broken. The volume of 'stuff' has rapidly exceeded the tools we've counted on for the past 10 years or so. And, the speed of 'stuff' makes validating new data harder and harder. Now a number of the web's most trusted voices (and interestingly, deepest pockets) have started to embrace a concept that could have massive ramifications. To manage, and make useful, the massive growth of content on the web, sites must embrace curation. Automatic Personalization and Recommended Sections in Google News. Posted by Lucian Cionca, Software EngineerLast summer we redesigned Google News with new personalization features that let you tell us which subjects and sources you'd like to see more or less often.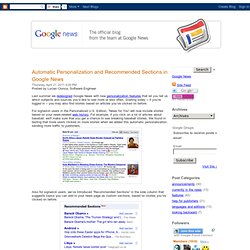 Starting today -- if you're logged in -- you may also find stories based on articles you've clicked on before. For signed-in users in the Personalized U.S. Content-Curation-Evaluation-Framework-V2-02-24-2011. Why Content Curation Is Here to Stay. Steve Rosenbaum is the CEO of Magnify.net, a video Curation and Publishing platform.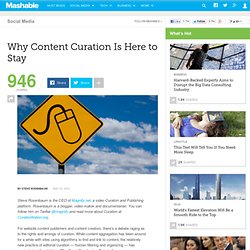 Rosenbaum is a blogger, video maker and documentarian. You can follow him on Twitter @magnify and read more about Curation at CurationNation.org.
---