Human Parasites
Top 10 Most Horrific Parasite Infections - Listverse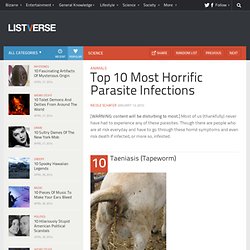 Animals [WARNING: content will be disturbing to most.] Most of us (thankfully) never have had to experience any of these parasites. Though there are people who are at risk everyday and have to go through these horrid symptoms and even risk death if infected, or more so, infested.
SciShow May 6, 2012 References
Blood type, meet bug type. "It's an important advance," said Rob Knight, a biologist at the , who was not involved in the research. "It's the first indication that human gut ecosystems may fall into distinct types." The researchers, led by Peer Bork of the European Molecular Biology Laboratory in Heidelberg, Germany, found no link between what they called enterotypes and the ethnic background of the European, American and Japanese subjects they studied. Nor could they find a connection to sex, weight, health or age. They are now exploring other explanations.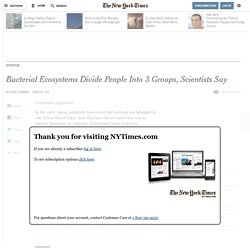 Gut Bacteria Divide People Into 3 Types, Scientists Report
In 2008, Dr. Khoruts, a gastroenterologist at the , took on a patient suffering from a vicious gut infection of Clostridium difficile. She was crippled by constant , which had left her in a wheelchair wearing diapers. Dr. Khoruts treated her with an assortment of , but nothing could stop the bacteria. His patient was away, losing 60 pounds over the course of eight months.
How Microbes Defend and Define Us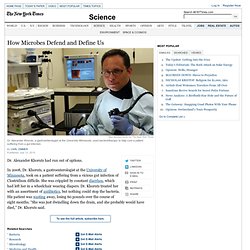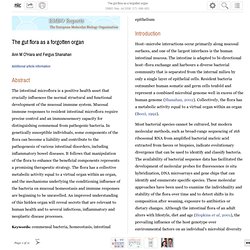 The gut flora as a forgotten organ
Review The host-microbe interface within the gut. Shanahan F Best Pract Res Clin Gastroenterol. 2002 Dec; 16(6):915-31. [PubMed] [Ref list]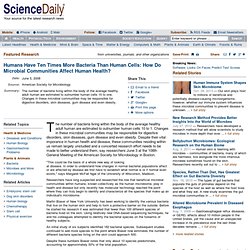 Humans Have Ten Times More Bacteria Than Human Cells: How Do Microbial Communities Affect Human Health?
June 5, 2008 — The number of bacteria living within the body of the average healthy adult human are estimated to outnumber human cells 10 to 1. Changes in these microbial communities may be responsible for digestive disorders, skin diseases, gum disease and even obesity. Despite their vital imporance in human health and disease, these communities residing within us remain largely unstudied and a concerted research effort needs to be made to better understand them, say researchers June 3 at the 108th General Meeting of the American Society for Microbiology in Boston. "This could be the basis of a whole new way of looking at disease. In order to understand how changes in normal bacterial populations affect or are affected by disease we first have to establish what normal is or if normal even exists," says Margaret McFall Ngai of the University of Wisconsin, Madison.
Death by Neti Pot. amoebas on the loose
Two deaths from brain-eating amoeba linked to sinus remedy for colds. U.S state issues health warning after neti pot is linked to two deaths By CLAIRE BATES Last updated at 2:28 PM on 16th December 2011 A sinus-flushing device used to relieve colds and allergies has been linked to a deadly brain-eating amoeba. Louisiana's state health department issued a warning about neti pots – which look like mini watering cans, that are used by pouring salty water through one nostril.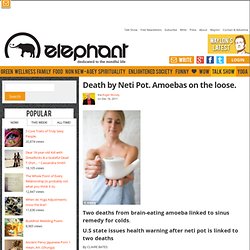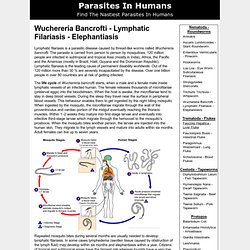 Lymphatic filariasis is a parasitic disease caused by thread-like worms called Wuchereria bancrofti. The parasite is carried from person to person by mosquitoes. 120 million people are infected in subtropical and tropical Asia (mostly in India), Africa, the Pacific and the Americas (mostly in Brazil, Haiti, Guyana and the Dominican Republic). Lymphatic filariasis is the leading cause of permanent disability worldwide. Out of the 120 million more than 30 % are severely incapacitated by the disease.
Wuchereria Bancrofti - Lymphatic Filariasis - Elephantiasis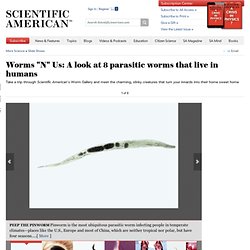 Email Pinworm is the most ubiquitous parasitic worm infecting people in temperate climates—places like the U.S., Europe and most of China, which are neither tropical nor polar, but have four seasons.....[ More ] Pinworm is the most ubiquitous parasitic worm infecting people in temperate climates—places like the U.S., Europe and most of China, which are neither tropical nor polar, but have four seasons. Nearly all children catch pinworm before they reach age 12 (yes, that means you, too) by digesting tiny bits of fecal matter from other kids. Pinworm inhabits the colon and rectum, feeding on Escherichia coli (E. coli) bacteria in the stool. Late at night when children are asleep, the female pinworm, which measures about the length of a staple (0.5 inch or 13 millimeters), emerges from the anus and lays her eggs on the surrounding skin.
Worms "N" Us: A look at 8 parasitic worms that live in humans: Scientific American Slideshows