Outils web
ifttt - http://ifttt
Of all forms of literature, however, the essay is the one which least calls for the use of long words. The principle which controls it is simply that it should give pleasure; the desire which impels us when we take it from the shelf is simply to receive pleasure. Everything in an essay must be subdued to that end. It should lay us under a spell with its first word, and we should only wake, refreshed, with its last. In the interval we may pass through the most various experiences of amusement, surprise, interest, indignation; we may soar to the heights of fantasy with Lamb or plunge to the depths of wisdom with Bacon, but we must never be roused.
Netvibes fontpro.com Font Pro - is a free fonts database with awesome typeface testing tool. It provides more than 20,000 free fonts and web fonts. Font Pro has made the process of searching fonts, previewing fonts, collecting fonts, to discovering new font combinations super easy and awesome. This tool can save hours of design time every week.
J'ai eu le plaisir de préfacer la nouvelle version du Guide pratique publié par Archimag, Outils et efficacité d'un système de veille paru en novembre dernier que vous pouvez commander ici . La veille dans un environnement numérique mouvant Par Christophe Deschamps (www.outilsfroids.net) Consultant & formateur en veille et gestion de l'information Les pratiques de veille dans les organisations se sont profondément modifiées en une décennie. En remontant dans le temps on se souviendra que les plateformes de veille intégrées ont commencé à voir le jour entre 1997 et 2000, avec des outils comme Périclès de Datops, Information Miner d'Arisem ou encore Aperto Libro d'Inforama.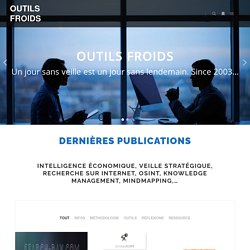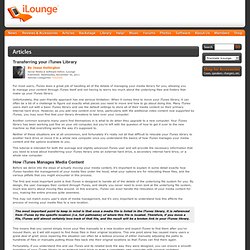 For most users, iTunes does a great job of handling all of the details of managing your media library for you, allowing you to manage your content through iTunes itself and not having to worry too much about the underlying files and folders that make up your iTunes library. Unfortunately, this user-friendly approach has one serious limitation: When it comes time to move your iTunes library, it can often be a bit of a challenge to figure out exactly what pieces you need to move and how to go about doing this. Many iTunes users start out with a basic iTunes library and use the default settings to store all of their media content on their primary internal hard drive. However, as you add new content over time, particularly with the additional video content now supported by iTunes, you may soon find that your library threatens to take over your computer. Another common scenario many users find themselves in is what to do when they upgrade to a new computer.