Outils web
Online Data Backup - Offsite, Onsite, & Cloud - CrashPlan Backup Software. Only CrashPlan offers totally free local and offsite backup.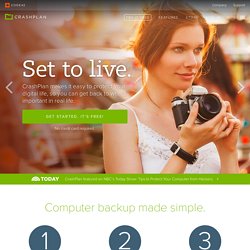 A subscription to our cloud backup service gets you continuous backup, mobile file access and lots more. For the ultimate in computer backup, get all three, from the same easy application. Free local backup Zero worries about data caps or network speed makes backing up to an external drive the fastest, easiest way to back up – and get back – your files.
Free offsite backup Offsite backup doesn't get any friendlier than CrashPlan. Ifttt - Agenda (Google) Notes (Evernote) Fichiers (Dropbox) Your To-Do List. Mindmapping (Mind42) Instapaper. Netvibes. Go2web20. Blog Outils Froids. Transferring your iTunes Library. For most users, iTunes does a great job of handling all of the details of managing your media library for you, allowing you to manage your content through iTunes itself and not having to worry too much about the underlying files and folders that make up your iTunes library.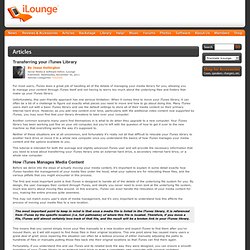 Unfortunately, this user-friendly approach has one serious limitation: When it comes time to move your iTunes library, it can often be a bit of a challenge to figure out exactly what pieces you need to move and how to go about doing this. Many iTunes users start out with a basic iTunes library and use the default settings to store all of their media content on their primary internal hard drive. However, as you add new content over time, particularly with the additional video content now supported by iTunes, you may soon find that your library threatens to take over your computer.
Another common scenario many users find themselves in is what to do when they upgrade to a new computer. iPhone stuff.
---