Twitter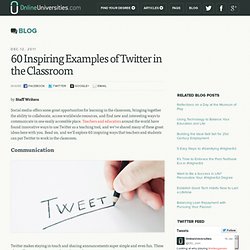 Social media offers some great opportunities for learning in the classroom, bringing together the ability to collaborate, access worldwide resources, and find new and interesting ways to communicate in one easily accessible place. Teachers around the world have found innovative ways to use Twitter as a teaching tool, and we've shared many of these great ideas here with you. Read on, and we'll explore 60 inspiring ways that teachers and students can put Twitter to work in the classroom. Communication
Creative-Education-Twitter-for-Teachers-Final
Twitter for Teachers: A Guide for Beginners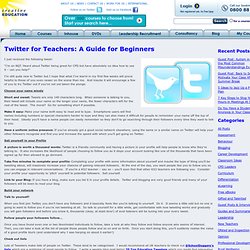 I just received the following tweet: "I'm an NQT. Heard about Twitter being great for CPD but have absolutely no idea how to use it – can you help?"
Ten Twitter Tips for Teachers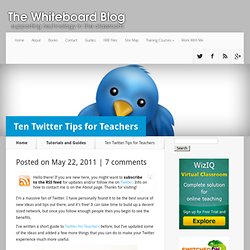 Hello there! If you are new here, you might want to subscribe to the RSS feed for updates and/or follow me on Twitter . Info on how to contact me is on the About page. Thanks for visiting!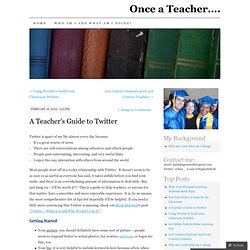 Twitter is apart of my life almost every day because: - It's a great source of news. - There are rich conversations among educators and edtech people. - People post entertaining, interesting, and very useful links. - I enjoy the easy interaction with others from around the world. Most people start off in a rocky relationship with Twitter. It doesn't seem to be as easy or as useful as everyone has said, it takes awhile before you find your niche, and there is an overwhelming amount of information to deal with. But, just hang on – it'll be worth it!!! This is a guide to help teachers, or anyone for that matter, have a smoother and more enjoyable experience.
A Teacher's Guide to Twitter | Once a Teacher….
Teachers are increasingly bringing the real-time communication power of Twitter into the classroom to help students learn. But I've come to the conclusion that it's great for helping teachers learn as well. Twitter has simply become one of the best places for teachers to collaborate, share solutions to common classroom problems, and discuss education policy.
Teaching Twitter to Teachers
Recently I decided to start running some more informal relaxed training sessions at school for staff. Not the sort of official 'boring' ones where staff have to learn how to do mail merge but fun ones like YouTube and Twitter. So for this week's Twitter sessions I set out with an easy aim – I wasn't trying to convert teachers into using Twitter extensively but instead just show them how it worked and some of the benefits it can bring. I wrote the PowerPoint which is attached to the blog as the basis for the lesson and it proved to be reasonably successful as a resource. I sometimes write PowerPoints which don't end up getting used for one reason or another so it felt good to use one properly. Of course it could be improved even further but at least I've got one I can revisit.