Freelance Graphic Design
Business Cards | Business Card Printing Online | PrintPlace.com. Need Business Cards Printed FAST?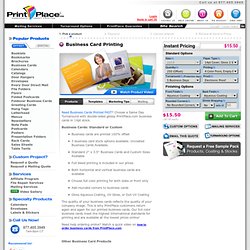 Choose a Same Day Turnaround with double-sided glossy PrintPlace.com business cards in 14pt stock. Business Cards: Standard or Custom Business cards are printed 100% offset3 business card stock options available. HTML5 Boilerplate - A rock-solid default template for HTML5 awesome. Web hosting provider - Bluehost.com. Turning Small Projects Into Big Profit, A Case Study - Smashing Magazine. Advertisement In the Web world, hearing businesses and freelancers alike complain about low-budget projects is not too uncommon.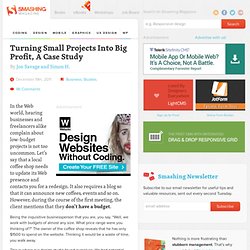 Let's say that a local coffee shop needs to update its Web presence and contacts you for a redesign. LESS « The Dynamic Stylesheet language. Free WordPress Themes. Looking for the awesome WordPress themes?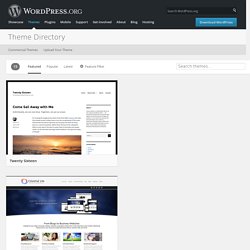 Here's the place to find them! Welcome to the Free WordPress Themes directory. Search below or check out our new filter and tag interface. 2,491 themes, 98,353,252 downloads, and counting. Smashing Magazine - For Professional Web Designers and Developers. FreshBooks - Online Invoicing, Accounting & Billing Software.
How much to charge for design work? Posted on 26'09 Feb Posted on February 26, 2009 along with 92 JUST™ Creative Comments Often I get asked this question via email, facebook or twitter about how to price yourself as a designer.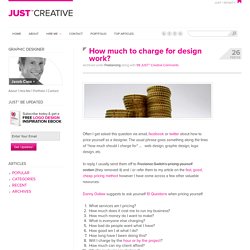 The usual phrase goes something along the lines of "how much should I charge for" … web design, graphic design, logo design, etc. In reply, I usually send them off to Freelance Switch's pricing yourself section and / or refer them to my article on the fast, good, cheap pricing method however I have come across a few other valuable resources: Danny Outlaw suggests to ask yourself 10 Questions when pricing yourself: What services am I pricing? Outsource to Freelancers, IT Companies, Programmers, Web Designers from India, Russia, USA, and more.
---