Johns Hopkins University
Johns Hopkins University. Johns Hopkins Profile - SAT Scores and Admissions Data for Johns. Johns Hopkins Description: Johns Hopkins has multiple campuses in the Baltimore area, but the majority of undergraduate programs are housed in the attractive red-brick Homewood Campus in the northern part of the city.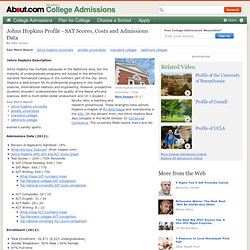 Johns Hopkins is best-known for its professional programs in the health sciences, international relations and engineering. However, prospective students shouldn't underestimate the quality of the liberal arts and sciences. With a multi-billion dollar endowment and 10:1 student / faculty ratio, a teaching and research powerhouse.
These strengths have earned Hopkins a chapter of Phi Beta Kappa and membership in the AAU.
---