Metacognition
To a degree you are right, but you need to be careful making this argument. To some people, the next step from this argument is "But last week you said X! And the week before you said Z! So of course now when you are saying Y that too is wrong!" And while Z was different than X, and Y is different than Z, to say that X, Z, or Y, are wrong is usually not true. Just like Newton wasn't proven "wrong" by Einstein per se, his theories were just limited and refined.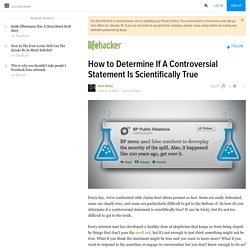 I am 28 now. I don't think about the past or regret things much these days. But sometimes I wish that I had known some of things I have learned over the last few years a bit earlier. That perhaps there had been a self-improvement class in school. And in some ways there probably was.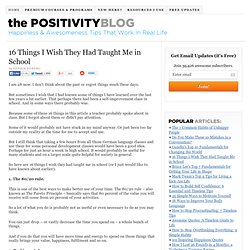 The Topic: Arguing The Guest(s): Hugo Mercier and Jeremy Sherman The Episode: Download – iTunes – Stitcher – RSS – Soundcloud In 2008, renowned programmer and essayist Paul Graham wrote a guide for citizens of cyberspace titled "How to Disagree." Ten years had passed since the invention of the comment section. Twitter was two years old.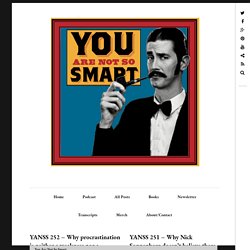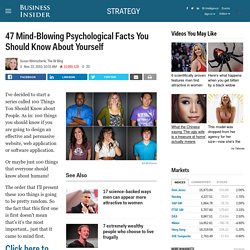 WHAT YOU ARE ABOUT TO READ IN THE NEXT PARAGRAPH IS COMMONLY BELIEVED, BUT NOT TRUE – You read by recognizing the shapes of words and groups of words. Words that are in all capital letters all have the same shape: a rectangle of a certain size. This makes words displayed in all uppercase harder to read than upper and lower case (known as "mixed case"). Mixed case words are easier to read because they make unique shapes, as demonstrated by the picture below.
The Dunning–Kruger effect is a cognitive bias in which unskilled individuals suffer from illusory superiority, mistakenly rating their ability much higher than is accurate. This bias is attributed to a metacognitive inability of the unskilled to recognize their ineptitude.[1] Actual competence may weaken self-confidence, as competent individuals may falsely assume that others have an equivalent understanding. David Dunning and Justin Kruger of Cornell University conclude, "the miscalibration of the incompetent stems from an error about the self, whereas the miscalibration of the highly competent stems from an error about others".[2] Proposal[edit]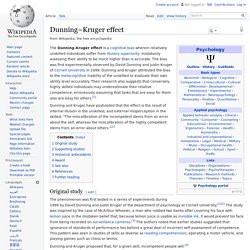 The Forer effect (also called the Barnum effect after P. T. Barnum's observation that "we've got something for everyone") is the observation that individuals will give high accuracy ratings to descriptions of their personality that supposedly are tailored specifically for them, but are in fact vague and general enough to apply to a wide range of people.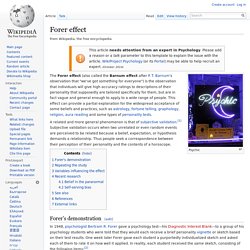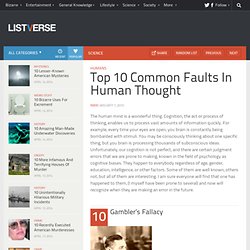 Humans The human mind is a wonderful thing. Cognition, the act or process of thinking, enables us to process vast amounts of information quickly. For example, every time your eyes are open, you brain is constantly being bombarded with stimuli. You may be consciously thinking about one specific thing, but you brain is processing thousands of subconscious ideas.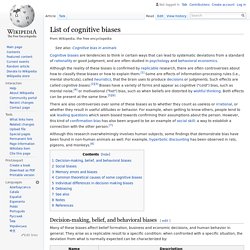 Cognitive biases are tendencies to think in certain ways. Cognitive biases can lead to systematic deviations from a standard of rationality or good judgment, and are often studied in psychology and behavioral economics. There are also controversies as to whether some of these biases count as truly irrational or whether they result in useful attitudes or behavior.
www.cracked.com: The Internet has introduced a golden age of ill-informed arguments. You can't post a video of an adorable kitten without a raging debate about pet issues spawning in the comment section. These days, everyone is a pundit.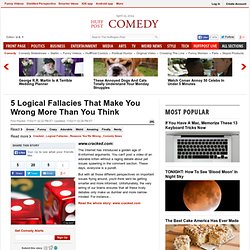 Most people assume that having a disability tends to make someone unhappy. When a disabled person appears happy, the rhetoric about them tends to describe them as either 'putting a brave face on it' and acting happier than they really are, or else as choosing to be happy despite the disability - overcoming the disability, or 'not letting it slow them down'. Well, those are testable interpretations. In particular, both faking emotions and choosing to consciously alter your emotions are cognitive skills.
Abnormaldiversity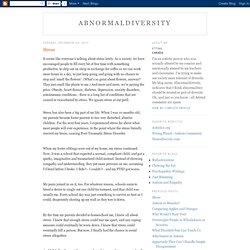 Psychology is the study of the human mind and mental processes in relation to human behaviors - human nature. Due to its subject matter, psychology is not considered a 'hard' science, even though psychologists do experiment and publish their findings in respected journals. Some of the experiments psychologists have conducted over the years reveal things about the way we humans think and behave that we might not want to embrace, but which can at least help keep us humble. That's something. 1.
Evidence and current research[edit] Advanced studies of implicit memory began only a few decades ago. Many of these studies focus on the effect of implicit memory known as priming.[1] Several studies have been performed that confirm the existence of a separate entity which is implicit memory. In one such experiment, participants were asked to listen to several songs and decide if they were familiar with the song or not. Half of the participants were presented with familiar American folk songs and the other half were presented with songs made using the tunes of the same songs from group 1 but mixed with new lyrics. Results show that participants in group 1 had a much higher chance of recalling the songs as being familiar, even though in both groups, the tunes of the songs were the same.[5] This study shows that people are even implicitly making connections amongst their memories.
Art by LaetitziaAs we all know, communication is essential in society. Advancements in technology have transformed the way that we correspond with others in the modern world. Because of the constant buzz in our technological world, it's easy to forget how important communicating face-to-face is. When conversing old-school style, it's not only speech we verbalize that matters, but what our nonverbal gestures articulate as well. Body language is truly a language of its own. We all have quirks and habits that are uniquely our own.