RFI RFP RFT RFQ process
ISO - International Organization for Standardization. ESB SOA RFP Questions. I am often asked how to select an ESB and how products in this space compare to each other.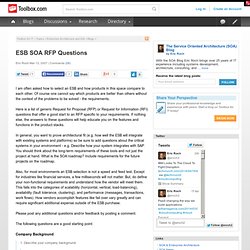 Of course one cannot say which products are better than others without the context of the problems to be solved - the requirements. Here is a list of generic Request for Proposal (RFP) or Request for Information (RFI) questions that offer a good start to an RFP specific to your requirements. If nothing else, the answers to these questions will help educate you on the features and functions in the product stacks. In general, you want to prove architectural fit (e.g. how well the ESB will integrate with existing systems and platforms) so be sure to add questions about the critical systems in your environment - e.g. Describe how your system integrates with SAP. JIRA RFI-RFP - JIRA Download Evaluator Resources. Untitled. RFQ RFT RFP RFI - Training in Procurement Processes.
Clients and newsletter readers have asked that we demystify the meaning behind each of the following procurement terms: RFI, RFQ, RFT and RFP.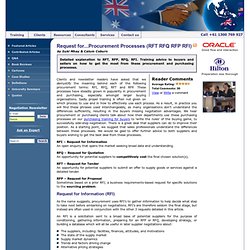 These processes have steadily grown in popularity in procurement and purchasing, especially amongst larger buying organisations. Sadly proper training is often not given on which process to use and in how to effectively use each process. As a result, in practice you will find these phrases used interchangeably, as many organisations don't understand the differences sufficiently, resulting in the buyers missing negotiation advantages.
We hear procurement or purchasing clients talk about how their departments use these purchasing processes on our purchasing training for buyers to 'write the rules' of the buying game, to successfully side-step negotiation. There is a great deal that suppliers can do to improve their position. Request for proposal. The RFP presents preliminary requirements for the commodity or service, and may dictate to varying degrees the exact structure and format of the supplier's response.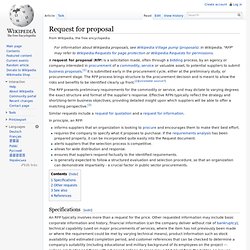 Effective RFPs typically reflect the strategy and short/long-term business objectives, providing detailed insight upon which suppliers will be able to offer a matching perspective.[3] Similar requests include a request for quotation and a request for information. Request for information. A request for information (RFI) is a standard business process whose purpose is to collect written information about the capabilities of various suppliers.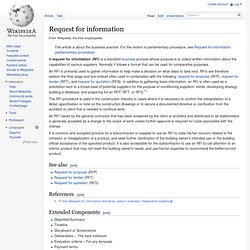 Normally it follows a format that can be used for comparative purposes. An RFI is primarily used to gather information to help make a decision on what steps to take next. RFIs are therefore seldom the final stage and are instead often used in combination with the following: request for proposal (RFP), request for tender (RFT), and request for quotation (RFQ).
In addition to gathering basic information, an RFI is often used as a solicitation sent to a broad base of potential suppliers for the purpose of conditioning suppliers' minds, developing strategy, building a database, and preparing for an RFP, RFT, or RFQ.[1]
---