Plugins - WP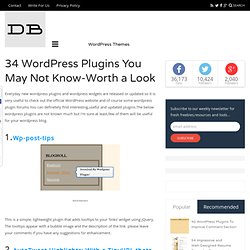 34 WordPress Plugins You May Not Know-Worth a Look
Everyday new wordpress plugins and wordpress widgets are released or updated so it is very useful to check out the official WordPress website and of course some wordpress plugin forums.You can definetely find interesting,useful and updated plugins.The below wordpress plugins are not known much but i'm sure at least,few of them will be useful for your wordpress blog.
Bookings — Zingiri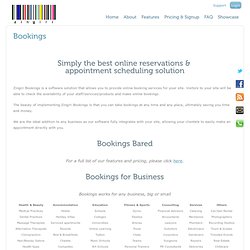 Zingiri Bookings is a software solution that allows you to provide online booking services for your site.
Un plugin newsletter gratuit pour wordpress
If you're a freelancer or small business owner , building your website is just the beginning of what you can do with WordPress as a CMS.
5 Innovative Uses of WordPress for Business Owners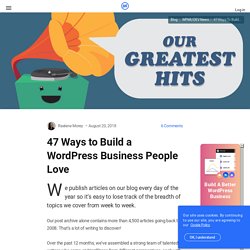 In most of the world, a multilingual web isn't the exception, it's the norm.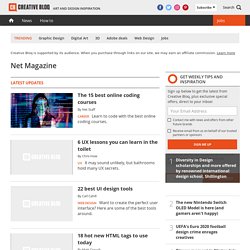 Build a multilingual site with WordPress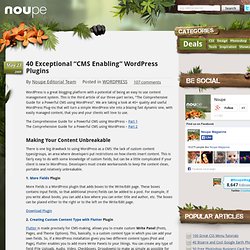 May 27 2009 WordPress is a great blogging platform with a potential of being an easy to use content management system. This is the third article of our three-part series, "The Comprehensive Guide for a Powerful CMS using WordPress".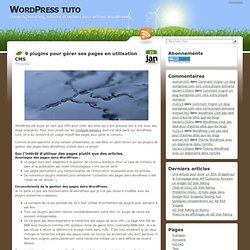 WordPress est super en tant que CMS pour créer des sites qui n'ont presque rien à voir avec des blogs ordinaires. Pour mon projet sur les cordages bateaux dont j'ai déjà parlé sur WordPress tuto, on a eu recours à un usage massif des pages pour gérer le contenu. Comme le site approche d'une version présentable, je vais faire un petit retour sur les plugins de gestion des pages dans WordPress utilisés dans ce projet.
9 plugins pour gérer ses pages en utilisation CMS
Breadcrumb NavXT | mtekk's Crib
Breadcrumb NavXT, the successor to the popular WordPress plugin Breadcrumb Navigation XT, was written from the ground up to be better than its ancestor. Table of Contents Purpose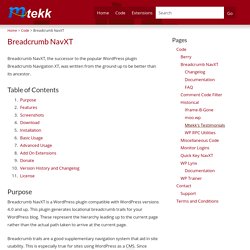 Les 10 meilleurs plugins pour CMS de WordPress