Plugin jquery
20+ Demos Showing Advanced jQuery Effects. Just a short while ago, Flash was one of the primary technologies used by web designers to add interactivity to a website.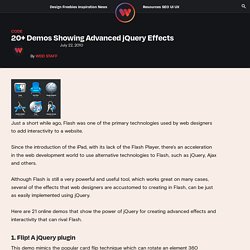 Since the introduction of the iPad, with its lack of the Flash Player, there's an acceleration in the web development world to use alternative technologies to Flash, such as jQuery, Ajax and others. Although Flash is still a very powerful and useful tool, which works great on many cases, several of the effects that web designers are accustomed to creating in Flash, can be just as easily implemented using jQuery. Here are 21 online demos that show the power of jQuery for creating advanced effects and interactivity that can rival Flash. 1. FullCalendar - Full-sized Calendar jQuery Plugin. Tutorials | Codrops - Part 2. 30 jQuery Plugins You Should Implement on Your Website - OurTuts.com. jQuery plugins are what web designers love most.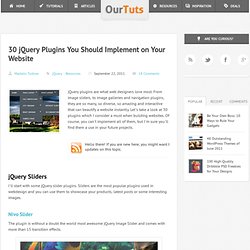 From image sliders, to image galleries and navigation plugins, they are so many, so diverse, so amazing and interactive that can beautify a website instantly. Let`s take a look at 30 plugins which I consider a must when building websites. Of course, you can`t implement all of them, but I`m sure you`ll find them a use in your future projects. jQuery Sliders.
---