Games
Play HoN For Free!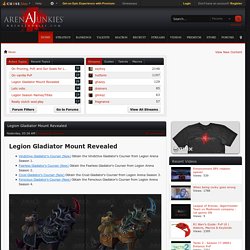 Arena 0 Point Hotix - Blue Post As many of you may have already noticed, there's been a recent change in arenas that can cause you to gain 0 points when you win. Official Blizzard Quote: We recently implemented a hotfix to address a bug that allowed Personal Ratings to exceed Matchmaking Rating. As a result, some players may notice that they do not gain or lose Personal Rating in the wake of a match. As more matches are played, these ratings will normalize and converge to the correct rating, and Personal Rating will then rise or drop accordingly.
WarcraftMovies.com - World of Warcraft Movies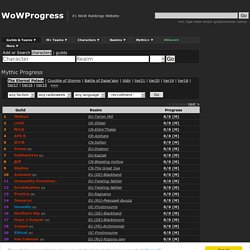 WoWProgress now records all your boss kills (not only first, but also 2nd, 3rd, etc) - with all timestamps, raid setups, item levels! By comparing timestamps of consecutive boss kills we are able to measure how fast you kill farm-bosses. Your guild pages now show "Fastest kill" values for bosses you killed (note that you should not change more than 2 members during raid to be able to record kill speed). Incoming very soon:- Boss speed kills rankings: World-wide, Region-wide, Realm-wide! Be ready!
The HomerJ Show
Nachdem das Kickstarter-Projekt Planetary Annihilation von mir in der Vergangenheit viel Liebe erfahren hatte, habe ich es ein wenig aus den Augen verloren. Bis vor kurzem. Uber Entertainment, Entwickler dieses bombastischen Meisterwerks, hat es weit gebracht und stellt ein glorreiches Beispiel dafür da, wie gut Kickstarter manchmal funktionieren kann. Doch beginnen wir von vorne: Planetary Annihilation ist ein spiritueller Nachfolger zu Total Annihilation, ein RTS-Game von geradezu unglaublichen Ausmaßen, das auf Kickstarter mit Millionen an Dollars unterstützt wurde. Ganze Planeten werden zu Schlachtfeldern und am Ende auch zu Wolken aus Schutt und Asche, wenn man die ehemalige Heimat in die Luft jagt. Bis vor kurzem lief das Spiel auf meinem PC nur mit Ach und Krach, die gigantische Größe erwies sich als Nachteil - doch seit dem Gamma-Update, das vor kurzem aufgespielt wurde, läuft es auch für mich rund.
Diablo III