Design
vormgevingsbureau | studio Jo Meesters | Light Box
Ample Sample 2009
Etsy Finds: Favorite Handmade 2010 Calendars
Name: Chuck and Jessica Location: Silver Spring, Maryland Size: 196 square feet Years lived in: Completed this year, 2009 Chuck is an architect and furniture designer and Jessica is a painter, so their shed was built out of necessity to provide additional workspace behind their home.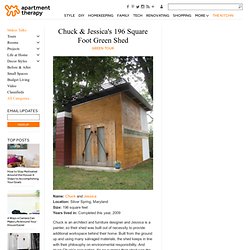 Chuck & Jessica's 196 Square Foot Green Shed Green Tour | Apartm
Bamboo(zle): Folding Dining Chairs + Room Divider Design | Desig
There is something almost creepy about the stealth with which these folding chairs convert into a flat and inconspicuous three-panel bamboo screen; decorative shoji-style space divider one moment – tall-back dining-room-worthy set of chairs the next. A wooden frame serves as structural reinforcement for the lighter-weight panels, which in turn slide and slot between positions to make the transformation process smooth and simple. Designer Daniel Milchtein Peltsverger may yet have a few functionality issues to resolve but the idea seems sound (and the material is sustainable as well).
Lounge37 - Graffiti Shirts Photography Design