Design
vormgevingsbureau | studio Jo Meesters | Light Box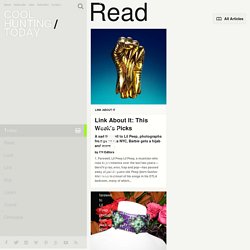 I'm a cadillac charged article. by Michael Slenske Two decades ago, New York-based light sculptor Leo Villareal attended Burning Man (the annual week-long art event in Black Rock City, Nevada, which culminates around a wooden sculpture of a man set on fire) and the experience changed his life. A few years later Villareal returned to the Nevada desert with a 16-strobe light beacon of his own design, which he fixed to the roof of his group's RV so that they could find their way home. "I was tired of getting lost, so I made my first piece which was sort of just a utilitarian thing to help me stay oriented. But then I thought, 'Wow, that's a very powerful combination: software and light,'" recalls Villareal, who brought the work home to NYC, laid a translucent cover over the top and had just produced his first gallery-worthy light sculpture, "Strobe Matrix."
Etsy Finds: Favorite Handmade 2010 Calendars
Name: Chuck and JessicaLocation: Silver Spring, MarylandSize: 196 square feetYears lived in: Completed this year, 2009 Chuck is an architect and furniture designer and Jessica is a painter, so their shed was built out of necessity to provide additional workspace behind their home. Built from the ground up and using many salvaged materials, the shed keeps in line with their philosophy on environmental responsibility. And given Chuck's occupation, it's no surprise their shed won the International Shed of the Year award for 2009. Built by Chuck himself, the shed's 196 square feet size was dictated by their zoning laws. If they kept the size under 200 square feet, they wouldn't be required to pull permits, which meant a lot less red tape and hassle.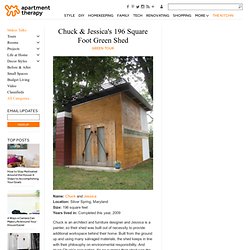 Chuck & Jessica's 196 Square Foot Green Shed Green Tour | Apartm
Bamboo(zle): Folding Dining Chairs + Room Divider Design | Desig
There is something almost creepy about the stealth with which these folding chairs convert into a flat and inconspicuous three-panel bamboo screen; decorative shoji-style space divider one moment – tall-back dining-room-worthy set of chairs the next. A wooden frame serves as structural reinforcement for the lighter-weight panels, which in turn slide and slot between positions to make the transformation process smooth and simple. Designer Daniel Milchtein Peltsverger may yet have a few functionality issues to resolve but the idea seems sound (and the material is sustainable as well). Of course, this would not be too difficult to make for the DIY-inclined – which is fortunate since (for now) this screen-and-chair combination is only a concept design. Still, given the appeal of home product that folds flat for storage in small apartments, it would make sense for these to start flying off the shelves should they ever be produced for sale.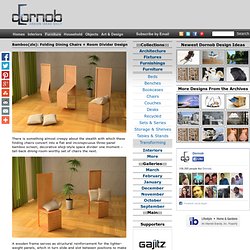 Lounge37 is a source for images and discussions on graffiti, photography, art and design, updated by a community of international artists. Our Store supplies unique and independent apparel for men and women... read more. There are 8037 images in our database. Recent News View News ArchiveJoin Mailing List
Lounge37 - Graffiti Shirts Photography Design