Future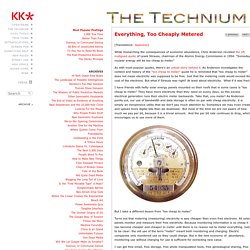 [Translations: Japanese] While researching the consequences of economic abundance, Chris Anderson revisted the oft maligned quote of Lewis Strauss, chairman of the Atomic Energy Commission in 1954: "Someday nuclear energy will be too cheap to meter." As with most popular quotes, there's an untold story behind it. As Anderson investigates the context and history of the "too cheap to meter" quote he is reminded that "too cheap to meter" does not mean electricity was supposed to be free. Just that the metering costs would exceed the cost of the electrons.
Kevin Kelly -- The Technium
Knock - Future Jewelry Collection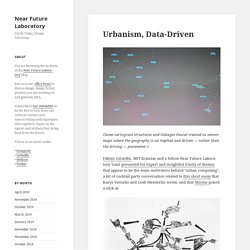 Near Future Laboratory » Blog Archive » Urbanism, Data-Driven
Fabien Girardin , MIT brainiac and a fellow Near Future Laboratory 'naut presented his expert and insightful trinity of themes that appear to be the main motivators behind "urban computing", a bit of cocktail party conversation related to this short essay that Kazys Varnelis and Leah Meisterlin wrote, and that Nicolas poked a stick at.