Knitting
Crochet Flower: Irish Rose : Frequently-Asked Questions (FAQ) about Knitting and Crochet. Click here to zoom. 1st round (RS) Using color A, make a slip ring, ch 2, sc 7 in ring, pull end to close ring, sl st to top ch of 2 ch. 8 sts. 2nd round ch 2, sc 1 in base of first ch, sc 2 in each of next 7 sts, sl st to top ch of 2 ch. 16 sts. 3rd round ch 4, [skip 1 sc, sc 1 in next sc, ch 3] 7 times, sl st to top ch of 4 ch. 8 ch-sp. 4th round [sc 1, hdc 1, dc 1, hdc 1, sc 1] in each ch-sp. 8 petals.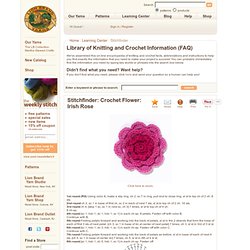 Fasten off with color B. AvaElongated Hat – Free Knitting Pattern. Designed by jenny, E-mail When I created the avaElongated Scarf a few weeks ago I immediately started making plans for a companion hat.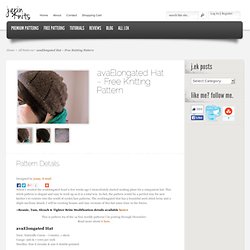 This stitch pattern is elegant and easy to work up so it is a total win. In fact, the pattern would be a perfect way for new knitter's to venture into the world of eyelet/lace patterns. Free Knitting Pattern - Headband Ear Warmer. I have written a newer, simpler pattern.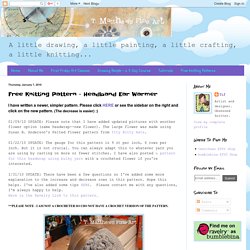 Please click HERE or see the sidebar on the right and click on the new pattern. (The decrease is easier) :) Knit Pattern: Amelia Earhart Aviator Cap. Amelia Earhart Aviator Cap Knit Head Hugger Designed by: Flor While the directions for this cap may appear complicated at first glance, it is really an easy hat to knit.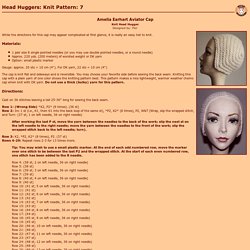 Materials: 1 pair size 8 single pointed needles (or you may use double pointed needles, or a round needle) Approx. 220 yds. (200 meters) of worsted weight or DK yarn Option: small plastic marker Gauge: approx. 20 sts = 10 cm (4"). T H E . T H R I F T Y . K N I T T E R.
---