To Do
April 2004 Polymer Clay Polyzine CD Barette Tutorial. Remember those old recipes (from the 60s or earlier) with unusual ingredients, like chocolate cake made with sauerkraut, Jello with cabbage in it, and spice cake made with tomato soup?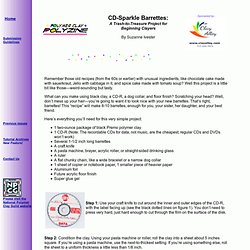 Well this project is a little bit like those—weird-sounding but tasty. What can you make using black clay, a CD-R, a dog collar, and floor finish? Scratching your head? Well, don't mess up your hair—you're going to want it to look nice with your new barrettes. That's right, barrettes! DIY Unusual Pom Pom Floor Mat. HomeMade Modern EP23 Pipe Bench. 35 Easy DIY Gift Ideas Everyone Will Love (with pictures) Bottle Cap Table with Poured Resin Surface.
Stamps
Craft. Around the House. Holiday. Gifts. Fun. Paper. Art. Quilting. Stained Glass.
Botany
---