Trading
Find Gold and Silver Prices here
Buy and Sell Gold and Silver Online. Gold & Silver Charts, Graphs & News | GoldSilver.com
Also be sure to check out Mike Maloney and other silver and gold experts in 80 minutes of fundamental power-packed information: is still one of the best ways for a newcomer to get up to speed with gold and silver. It is jam packed with information and calm analysis by the top experts in the field. If you have a friend or family member who wants to know about precious metals but you can't find the time to help them understand, or if there is someone you want to help but they just won't listen, or even if you just want to say ' Haha !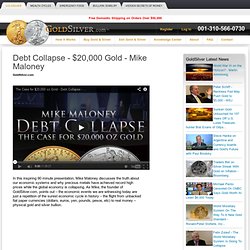 Debt Collapse - $20,000 Gold - Mike Maloney | GoldSilver.com
Robert Kiyosaki: Silver is the best hedge against inflation!
* INSIDER REPORT: WHY SILVER IS MORE PRECIOUS THAN GOLD!
Robert Kiyosaki - New Rules of Money, Part 3/7: Why Savers Are Losers in This Economy
Hyperinflation Nation Part 1/3
Hyperinflation Nation Part 2/3
Hyperinflation Nation Part 3/3
End of Liberty
Trader on Bloomberg says markets are manipulated and volumes ficticious
History of The Federal Reserve
Money, Banking and the Federal Reserve
The Committee of 300
PDF download on Committee of 300
Yield Curve
Kathy Lien
FX360
SRDC Global - The Worldwide SRDC Community
SRDC Bootcamp Summary - Part 1
SRDC Bootcamp 2011 Summary Part 2