Google+
How to Google Plus like a Boss. Google Plus is a boss's social network.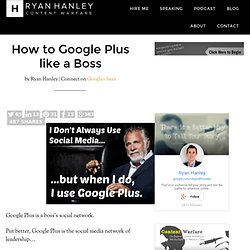 Put better, Google Plus is the social media network of leadership… Leadership – "a process of social influence in which one person can enlist the aid and support of others in the accomplishment of a common task" ~ via Wikipedia …of thought-leadership, Get More Reviews Without Becoming an Outlaw. If you've ever tried to earn reviews for your business, you know that it's the wild, wild west out there.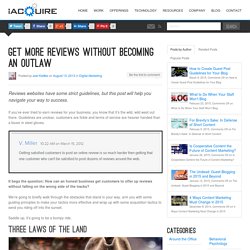 Guidelines are unclear, customers are fickle and terms of service are heavier handed than a boxer in steel gloves. It begs the question: How can an honest business get customers to offer up reviews without falling on the wrong side of the tracks? We're going to briefly walk through the obstacles that stand in your way, arm you with some guiding principles to make your tactics more effective and wrap up with some acquisition tactics to send you riding off into the sunset. Saddle up, it's going to be a bumpy ride. Three Laws of the Land. The Seven Habits of Highly Effective Google Plussers. In 1989, Dr.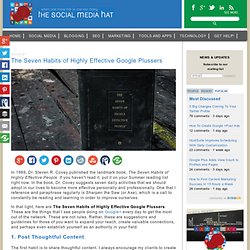 Steven R. Covey published the landmark book, The Seven Habits of Highly Effective People. If you haven't read it, put it on your Summer reading list right now. In the book, Dr. #27 Building Authority Online using Google Plus with Mark Traphagen | Content Warfare Podcast. Mark Traphagen - Google+ - Social Media and SEO Blend with +Eric Enge… Google In-Depth Article Search Results: How to Qualify Your Content. Google today announced that "In-depth Articles" are to be featured in Search.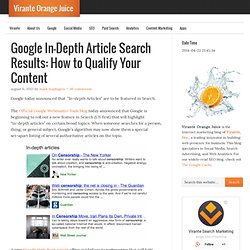 The Official Google Webmaster Tools blog today announced that Google is beginning to roll out a new feature in Search (US first) that will highlight "in-depth articles" on certain broad topics. When someone searches for a person, thing, or general subject, Google's algorithm may now show them a special set-apart listing of several authoritative articles on the topic.
A new Google Help Page article offers guidelines to webmasters that will help them markup their best content in ways that will help Google to identify it as possibly qualifying to be shown in an in-depth article result. Suggestions include: Getting Started With Google Places for Business. Google Places is one local listing you don't want to miss.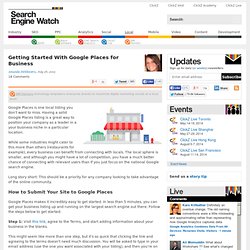 Having a solid Google Places listing is a great way to position your company as a leader in a your business niche in a particular location. While some industries might cater to this more than others (restaurants for example), every business can benefit from connecting with locals. The local sphere is smaller, and although you might have a lot of competition, you have a much better chance of connecting with relevant users than if you just focus on the national Google search engine. Long story short: This should be a priority for any company looking to take advantage of the online community. How to Submit Your Site to Google Places. Seven Ways Writers Can Build Online Authority with Google+ 6 Ways Your Insurance Agency Should Be Using Google+ Hangouts. You're in sales.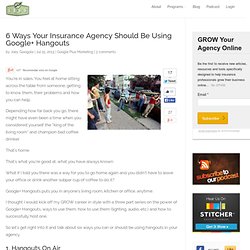 You feel at home sitting across the table from someone, getting to know them, their problems and how you can help. Depending how far back you go, there might have even been a time when you considered yourself the "king of the living room" and champion bad coffee drinker. That's home. That's what you're good at, what you have always known. What if I told you there was a way for you to go home again and you didn't have to leave your office or drink another subpar cup of coffee to do it?
10 Dead Simple Tips to Take Advantage of Google+ for SEO. It's no secret.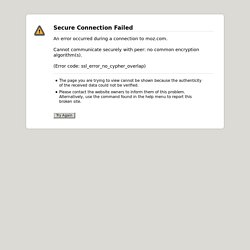 When engineers built Google+, they constructed an SEO juggernaut to dominate search results above all other social platforms. Although Facebook and Twitter are essential to marketing efforts, both restrict Google from accessing much of their data.
---